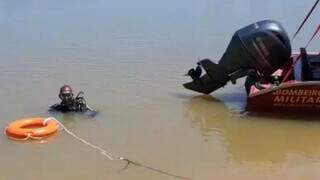 The body of Florizete Moraes Vieira, 27, was found by the Fire Department on the Paraguay River, this Thursday morning (24), in the Porto Formigueiro region, in Corumbá, 428 kilometers from Campo Grande.
According to the corporation, the team was informed of the disappearance of the young man around 6 am. Since then, searches began with two divers on a vessel. After 4 hours of work, the victim was located 5 meters deep, in front of Porto Formigueiro.
A team from the Civil Police and Technical Experts were called in to carry out the usual surveys. According to information passed on to the military, the boy was in the region on work and was a resident of a farm in the surroundings. He disappeared into the water while bathing in the river yesterday afternoon.
deaths – In five days, three deaths by drowning were recorded in the Paraguay River, in the region of Porto da Manga. On Saturday afternoon (19), the deputy secretary José Roberto do Nascimento Júnior and the parliamentary advisor to the City Council, Reinaldo Vilalva, were in a small boat and fell into the river after an engine failure.
www.campograndenews.com.br