GENEVA (Infobae) – Maria Van Kerkhove, head of the agency's Emerging Diseases Unit, clarified her comments on Monday indicating that it was "very unusual" for COVID-19 patients without symptoms to transmit the virus. "We don't have that answer yet," he said.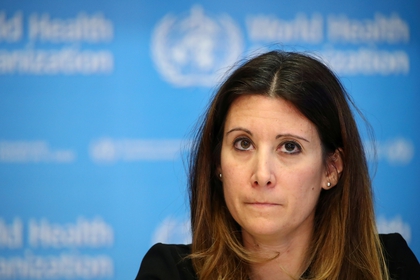 Maria Van Kerkhove, Head of the Zoonoses and Diseases Unit
WHO Emerging (REUTERS / Denis Balibouse)
The World Health Organization (WHO) provided more questions on Monday reporting that it is "very unusual" for asymptomatic coronavirus patients to infect. Nevertheless, In just 24 hours, this Tuesday the body seemed to back down on its statements.
Maria Van Kerkhove, head of the WHO Zoonoses and Emerging Diseases Unit, participated in a videoconference on Tuesday and tried to clarify her statements yesterday.
The doctor maintained that asymptomatic spread is a "really complex issue" and that much is still unknown about it. "Actually, we still don't have that answer"said.
On his arguments on Monday, during a WHO press conference in Geneva, he noted: "I was answering a question at the press conference. I wasn't stating WHO policy or anything like that. I was just trying to articulate what we know."
"I used the phrase 'very rare,' and I think it's a misunderstanding to say that asymptomatic transmission globally is very rare. I was referring to a small subset of studies," he stressed.
According to what was stated by CNBC, Van Kerkhove explained that the studies carried out so far indicate that about 16% of the population that has contracted the virus may be asymptomatic. However, she acknowledged that other studies, which refute that idea, maintain that up to 40% of global transmission can be caused by asymptomatic people.
Despite these studies, the doctor reiterated that the highest level of transmission of the virus comes from patients with symptoms. "But there is a subset of people who don't develop symptoms. To really understand how many people don't have symptoms, we don't have that answer yet," she said.
The doctor mike ryanexecutive director of the WHO emergency program, said the percentage of asymptomatic people who transmit the virus is still "a big open question."
"There is much to be answered in this. There is much that is unknown (…) It is clear that both symptomatic and asymptomatic individuals are part of the transmission cycle. The question is what is the relative contribution of each group to the total number of cases?he asserted.
Monday's message sent by the WHO raised doubts based on what was believed that asymptomatic people were the main source of contagion of the COVID-19 disease. Some people, particularly young individuals, never develop symptoms or develop only mild symptoms. Others may not get them until days after being infected.
Preliminary evidence from early outbreaks indicated that the coronavirus could spread easily through person-to-person contact, even if the carrier had no symptoms.
"From the data we have, it still seems rare that an asymptomatic person actually transmits to a secondary individual… It's very rare."said Dr. Maria Van Kerkhove on Monday, sparking a new wave of skepticism and doubts about the spread of the virus.
Although health officials in countries such as Britain and the United States have warned that COVID-19 is spreading from people without symptoms, the WHO has maintained that this type of spread is not a driver of the pandemic and probably accounts for about 6 % spread. Numerous studies have suggested that the virus is spreading from people without symptoms, but many of these are anecdotal reports or based on models.
Van Kerkhove said that based on country data, when people without COVID-19 symptoms are followed for a long period to see if they transmit the disease, there are very few cases of spread. "We're constantly looking at this data and trying to get more information from countries to really answer this question. It still seems rare that asymptomatic people actually transmit going forward."
© 2019 Infobae
UyPress – Uruguayan News Agency
www.uypress.net