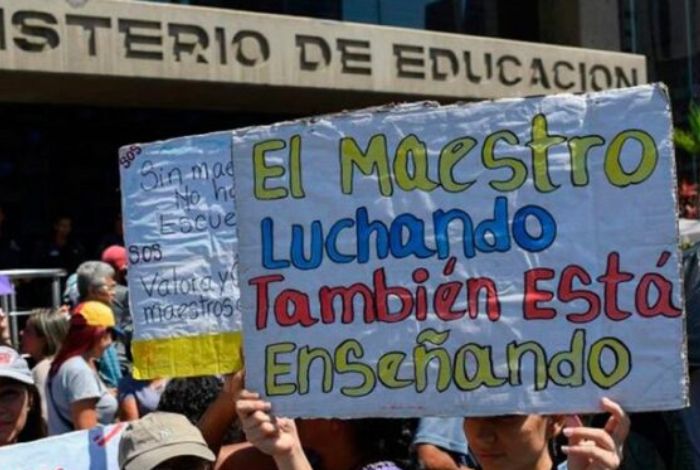 Work: www.radiofeyalegrianoticias.com
Edgar Machado, president of the Venezuelan Union of Teachers of the Capital District, said that Despite the protests that teachers have made in recent days, they have not received any response from the State.
This Wednesday, August 10, Machado expressed in the Punto y Seguimos program of Radio Fe y Alegría Noticias, that they have addressed all official organizations making the complaint, and even so, Nicolás Maduro still has not commented on the matter.
"The Ministry of Education is ignoring our complaints, and the situation that the education sector is experiencing is unfortunate, like all sectors of the country," he said.
Despite this, he indicated that they will continue to hold rallies in the streets, not only in Caracas, but also in around 14 states of the country this Thursday, August 11.
The teacher clarified that the claim of the education guild It is not only due to the non-payment of the vacation and recreational bonus, but also the "family heritage that is at stake".
"Today what the salary reaches is just to survive a few days. It is unfortunate that the State does not give a clear answer", he stated.
Rejection of fractional bonus
The president of the Venezuelan Union of Teachers of the Capital District stated that the rejection they have for the vacation bonus payment in a fractional way, it is because the union's Collective Agreement would be violated.
"When a collective agreement is discussed, there are several factors that make up that discussion, such as the Ministry of Education, the national unions, the Ministry of Labor, the Ministry of Finance and the Controllership. A contract cannot be signed if there are no resources, that is, when it was signed it was because those resources were approved", he explained.
For this the union leader said they want to know where those approved resources are located and why there is a need for an installment payment.
He also recalled that the State still owes the Education sector a percentage of the Collective Contract prior to the current one.
He asserted that the educational sector is willing to go to the last consequences to ensure that they are heard.
For more information: www.radiofeyalegrianoticias.com
Press here for support freedom of expression In Venezuela. Your donation will serve strengthen our digital platform from the writing of the Dean of the National Press, and so allow us to move on committed to truthful information, as our flag has been since 1904.
We count on you!
www.elimpulso.com