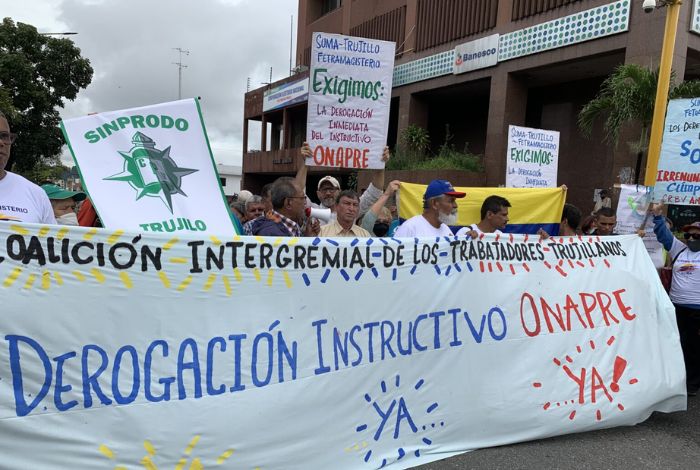 Public administration workers from different unions unified forces to join the protest called at the national level this Thursday, September 22. In the city of Valera, Trujillo state, the concentration began at 10 in the morning on Bolívar Avenue.
In the protest were active workers and pensioners of health, education and the Ministry of Ecosocialism. They all raised their voices for the same purpose: demand the repeal of the Onapre instructions, and request the payment of fair wages and salaries.
"We are asking the National Government to restitution of all wage premiums, the repeal of the Onapre instructions, fair pensions for all retirees and pensioners, as well as the full payment of Christmas bonuses", explained Jesús Calderas, director of Suma Trujillo.
With banners and slogans, the demonstrators raised their voices in protest to assert their labor rights. "It cannot be possible that retirees, pensioners and active people do not have enough salary to cover their basic needs", lamented Euridice Peña, president of the Association of Pensioners and Retirees of the state of Trujillo.
Sulvia Torres, president of the Nursing College of Trujillo state, explained that the Onapre instructions it is applied to both active and retired workers and that this was not discussed with the unions that "truly represent the working masses".
Through this instructive has deteriorated wage premiums and collective agreements are breached, according to Argenis Carreño, president of the Federation of Workers of the Trujillo state. What they consider a "violation of human rights."
The demonstrators affirmed that they will continue to fight with the protests in the streets of Venezuela until they dignify the public administration workers. "We will continue until we achieve compliance with the rights enshrined in the Constitution of the Bolivarian Republic of Venezuela and in the Worker's Law," concluded Gerardo Montilla, director of the College of Education Graduates of Venezuela, Trujillo section.
More information: www.termometronacional.com
Press here for support freedom of expression In Venezuela. Your donation will serve strengthen our digital platform from the writing of the Dean of the National Press, and so allow us to move on committed to truthful information, as our flag has been since 1904.
We count on you!
www.elimpulso.com