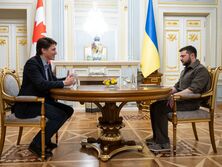 Canadian Prime Minister Justin Trudeau, during a visit to Kyiv on May 8, said at a meeting with Ukrainian President Volodymyr Zelensky that Canada stands shoulder to shoulder with Ukraine in its fight against Russian aggression. About it informed Office of the President of Ukraine.
The Prime Minister of Canada noted that Ukraine would be provided with assistance, including financial and humanitarian, as well as defense: anti-tank systems, equipment for satellite communications, and the like.
"We will provide whatever is needed," Trudeau said.
He spoke about his today's visit to Irpin, Kyiv region, where the Russian invaders killed civilians.
"It's obvious that [президент РФ] Vladimir Putin is responsible for his heinous war crimes, and Canada will continue to support Ukraine in this war with Russia. We will stand shoulder to shoulder with you in this beautiful capital filled with light, culture and history. We will stand by your side for years, decades and centuries to fight tyranny, and Putin and his henchmen will see Ukraine win," Trudeau said.
War of Russia against Ukraine. The main thing (updated)
gordonua.com