The Bolívar State Chamber of Tourism (Cteb) held the 1st Southeast Meeting on the island of Margarita, Nueva Esparta state, on March 18 and 19, in which they brought together tourism associations from the east of the country.
Gilbert Almarza, president of the Cteb, declared to scoop that the conference was an initiative of the guild that he chairs, with the aim of achieving a summit with the states of Nueva Esparta, Sucre and Anzoátegui, -chambers affiliated with the Superior Council of Tourism of Venezuela (Conseturismo)- "this motivated that as a southeastern bloc we can have greater negotiating power in national and international tourism," he added.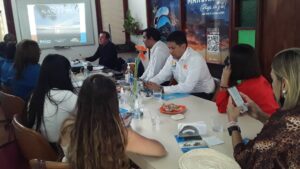 Among the established priorities is the commercialization of the international tourist route from the Amazon to the Caribbean; alliances to publicize and promote tourist attractions between regions and the preparation of programs that contemplate the start of operations of Copa Airlines with its route from Panama to Barcelona, ​​as well as the reactivation of flights from Puerto Ordaz to Cumaná.
Other issues that were discussed during the summit were the problem of fuel and roads, "with great expectations as soon as they can be solved (…)", Almarza said.
have the informationInstantly on your cell phone. Join the Diario Primicia group on WhatsApp through the following link:https://chat.whatsapp.com/CFMrmvxvJUM4dWiaTzuPwc
We are also on Telegram as @DiarioPrimicia, join us here:https://t.me/diaryscoop
primicia.com.ve