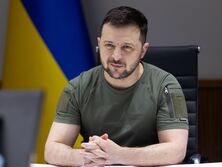 President of Ukraine Volodymyr Zelensky is ready for negotiations to end the war only with the head of the Kremlin, Vladimir Putin, since the rest of the representatives of the Russian authorities are "no one".
The head of state said this in an interview with the Nieuwsuur project of the Dutch NOS TV channel, his video published on Facebook of the Office of the President on May 28.
Zelensky was asked under what conditions he wants to negotiate with Putin at the presidential level.
"The question is not that I want to negotiate with him. The question is what is there (in Russia. – "GORDON") there is no one to negotiate with. He built a state in which no one decides anything. Therefore, it doesn't matter what their foreign minister says, it doesn't matter that he sends some kind of negotiating group to us, who meets with ours in Turkey. All these people are nobody, unfortunately," Zelensky said.
He added that he was ready for negotiations with Putin "at any time, now."
The presenter clarified in Zelensky under what conditions his negotiations with the President of the Russian Federation are possible.
"And what conditions can be for us, if they came to us to kill us, what conditions?" – answered the President of Ukraine.
On May 28, during a telephone conversation, German Chancellor Olaf Scholz and French President Emmanuel Macron urged Putin to direct negotiations with Zelensky.
War of Russia against Ukraine. The main thing (updated)
gordonua.com