The next edition will be held on August 25 XXXIX of the Chevron Cup Friendship Golf Tournamenta charity championship that will take place at the Caracas Country Club.
The Venezuelan American Friendship Associationd (AVAA) is in charge of carrying out the event, which aims to raise as many funds as possible to deliver around 250 scholarships to young university students from Caracas with limited resources through the Excellence Program (ProExcellence).
The institution promotes this initiative that is close to reaching four decades and this year it is carried out under the slogan «18 holes for education«. AVAA collects the funds thanks to the sponsorships and registrations of interested golfers.
On this occasion, there will be more than 100 athletes who will meet in the tournament that will be held with the modality Stroke Play (shotgun exit) for both ladies and gentlemen. According to the organization's press release, in addition to the competition, the participants "will enjoy a pleasant day."
The main financing of the event comes mainly from the company Chevronadded to the contribution of others such as Accumuladores Duncan, Gama, Televen, Farmatodo, Mapfre Seguros, Envases Venezolanos, Empresas Polar, Diageo, KPMG, Montalbán, Pestana Hotel Group, Radar Systems, Valdez y Asociados and others.
For those interested in tournament registration, AVA has two ways enabled, one is through email [email protected] and another is through the WhatsApp application, writing to the number +58 414-122-27-40.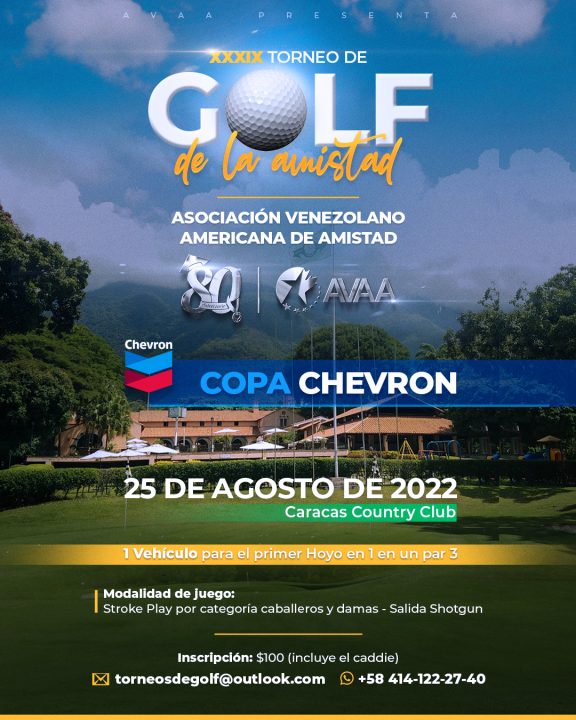 Press here for support freedom of expression In Venezuela. Your donation will serve strengthen our digital platform from the writing of the Dean of the National Press, and so allow us to move on committed to truthful information, as our flag has been since 1904.
We count on you!
www.elimpulso.com