Before the resignation of Silvina Batakis from the Ministry of Economy, the General Confederation of Labor (CGT) announced a mobilization towards the Plaza de los Dos Congresos. The claim on this occasion was not intended for the Government of Alberto Fernandez but it was aimed at the "speculative" business sector that is affecting the country's economy and the current management of Serge Massa.
The provincial senator and general secretary of the Canillitas guild, Omar Plainiconfirmed the call for the 17 of August beyond the changes in the Cabinet. In this sense, he clarified that "the CGT is made up of several sectors, the sector that is the Trade Union Front in which I participate and we have one of the general secretaries who is Paul Moyanowe have been coming for a long time claiming against the attempt of exchange runs and to destabilize the Governmentthe pressure of concentrated groups such as the Argentine association of companies, the chamber of North American companies, the soy nucleus, the rural society, and the price makers».
Following this, Plaini added that they suggested "that we had to express that discontent, mobilize, because the issue of inflation worsens day by day. A mobilization that we had proposed for July 26 was discussed at the table of the CGT, it was not possible, and we agreed to march on August 17 for employment, production, development and for the defense of the homeland itself".
In dialogue with Radio Metro, the senator stressed that "there is discontent in society that does not give a blank check to the political leadership, nor to the Government, much less to the opposition that has not given any idea. Workers must go out to claim and question politics. Nobody is mobilized for sport »and that is his way of demonstrating disagreements with the management.
The request of the CGT to Sergio Massa
On the other hand, the CGT recommended Sergio Massa «use this to tell the power centers that the working class is out on the street» and that «even workers with registered work, many of them do not make ends meet». In this way, they will ask those who register the highest profits to collaborate with the most needy sectors in this context of crisis.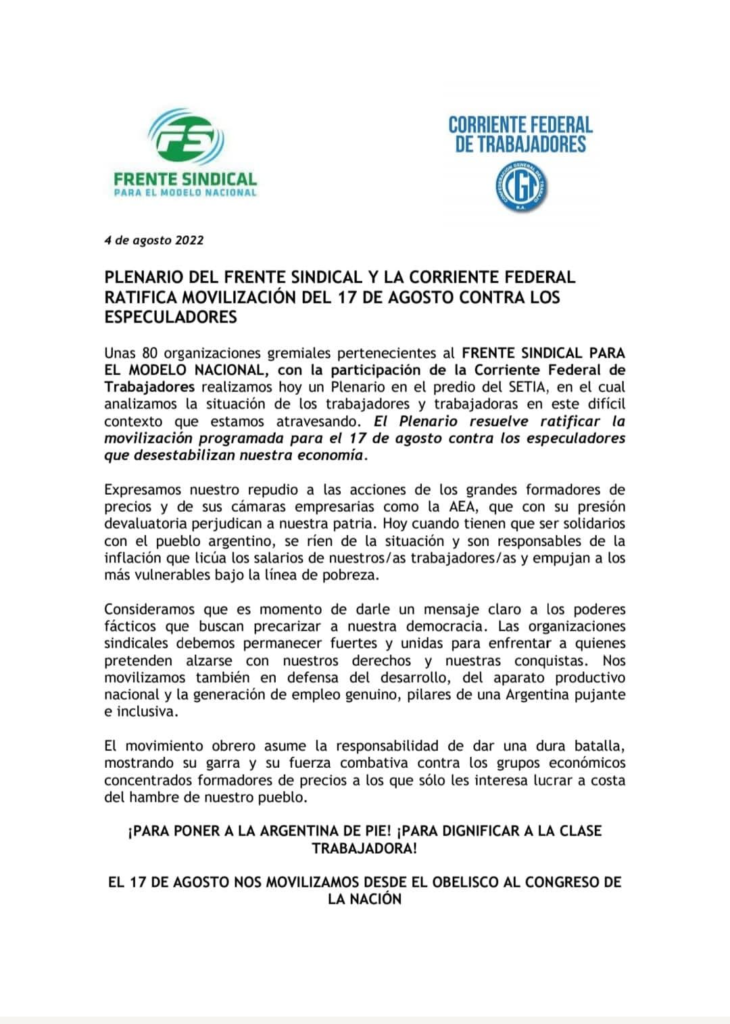 elintransigente.com