Tomorrow, from 18:00, River will receive workshops in the Monumental in a crucial duel for the fight of the Professional League. Between injured, suspended and summoned to the FIFA date, Marcelo Gallardo He has eight casualties and that is why he turned to the Reserve to summon two juveniles with a great present: Frank Alfonso Y Joaquin Panichelli.
In addition to absences due to injuries of Robert Rojas, Felipe Pena, Rodrigo Aliendro, Gallant he will not be able to count on the suspended tomorrow either Andres Herrera and Enzo Perez and those summoned to their teams for the FIFA date: Frank Armani (Argentina), Paul Diaz (Chile) and Nicholas De la Cruz (Uruguay). Given the weight absences, the DT will have to manage.
And everything indicates that River will go out on the field with Ezekiel Centurion; Milton Casco, Emanuel Mammana, Javier Pinola, Elías Gómez or David Martínez; Bruno Zuculini; Santiago Simón or Tomás Pochettino, Agustín Palavecino, Esequiel Barco; Pablo Solari and Lucas Beltranalthough a possible inclusion of Miguel Borgia.
The 22 summoned
Archers (2): Ezequiel Centurion and Franco Petroli.
Defenders (7): Jonatan Maidana, Javier Pinola, David Martínez, Emanuel Mammana, Leandro González Pirez, Milton Casco and Elías Gómez.
Midfielders (8): Bruno Zuculini, Agustín Palavecino, Juanfer Quintero, Santiago Simón, José Paradela, Tomás Pochettino, Franco Alfonso and Esequiel Barco.
Forwards (5): Lucas Beltrán, Pablo Solari, Miguel Borja, Matías Suárez and Joaquín Panichelli.
Who is Franco Alfonso?
He was born on May 4, 2002 in Buenos Aires and before coming to River In 2015, after a three-day test, he passed through El Porvenir and Vélez. He is 1.64 meters tall, weighs 60 kilos and started playing as a hitch until he became a midfielder capable of playing on both wings. In the Reserve he debuted on January 18, 2020 and since then he has scored 11 goals in 56 official games. The leadership has already assured him with a clause of 20,000,000 euros and a contract until the end of 2023.
Who is Joaquin Panichelli?
panichelli He is a 19-year-old striker from Córdoba. He was born on October 7, 2002, measures 1.85 and reached River from Atalaya (same club as Julián Álvarez) in March 2020 after having been training for a month and a half in the Inferiores de Boca. He debuted in the Reserve on May 21, 2021 and already has 14 cries in 55 presentations. Unlike Alfonsodoes not have a professional contract and may be released if he does not sign it before November 30.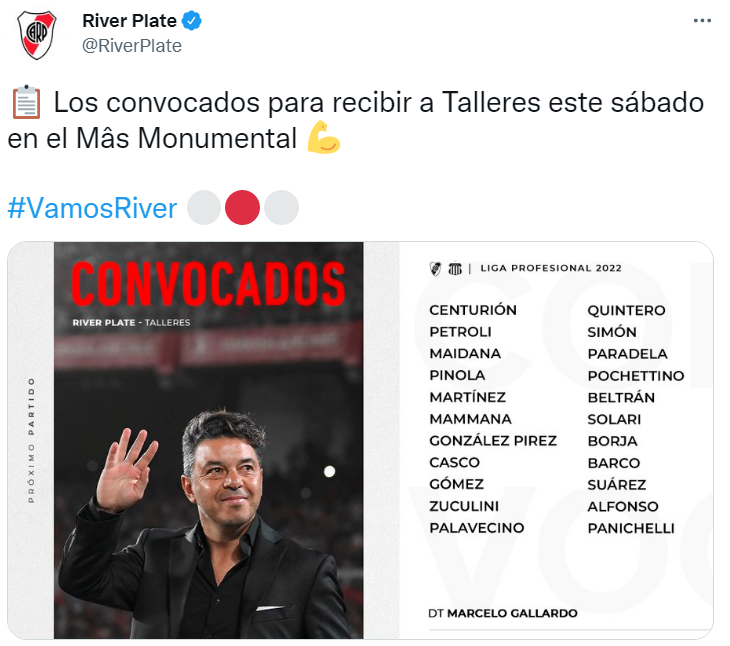 elintransigente.com