Alisher Usmanov- Businessman and billionaire oligarch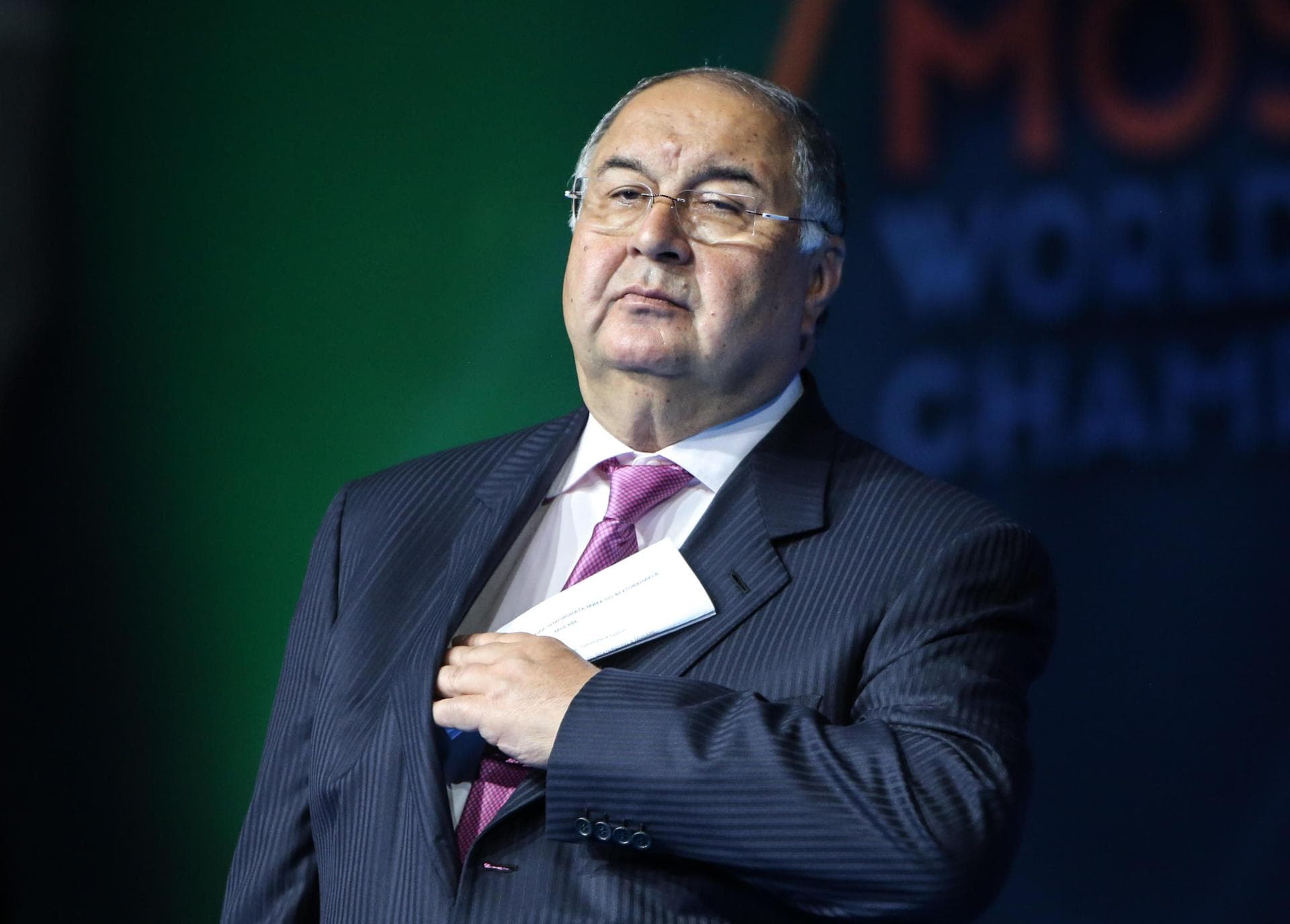 The minimum recognized asset value is $ 3,388,096,500
Reason for involvement:
The Uzbek-born billionaire is known to be close to Russian President Vladimir Putin, with whom he is suspected of having financial ties, as well as to former President Dmitry Medvedev, who is said to have benefited from the personal use of Usmanov's luxury residences.
Some U.S. senators have urged the Donald Trump administration to include Usmanov in its report on Russian interference in the 2016 presidential election, describing him as "one of Russia's most influential political oligarchs with close ties to the Kremlin." ".
His interests include telecommunications, media and mining.
Denis Popov – Chief Prosecutor of Moscow
The minimum recognized asset value is $ 5,618,000
Reason for involvement:
Moscow's chief prosecutor, who led a campaign against the network of anti-corruption organizations of opposition leader and activist Alexei Navalny through investigations and courts.
After a period as chief prosecutor of the Republic of Dagestan, Popov was personally appointed by Vladimir Putin to serve as the capital's prosecutor in 2019. Two years later, Putin awarded him the Order of Honor for strengthening the rule of law in Russia.
According to a 2019 report published on Navalny's website, Popov "personally launches cases against the opposition by order of the Russian National Guard. "The Moscow Prosecutor's Office plays a very important role in ranking everyone and everything as 'foreign agents'."
Dmitry Peskov – Vladimir Putin's spokesman (Wealth not known)
Reason for involvement:
Peskov has publicly defended Russia's aggression against Ukraine and stressed that the illegally annexed territory of Crimea is an integral part of Russia that will never return.
His role in Russia's global disinformation campaign led to him being sanctioned by the US. She separately sanctioned members of his family who lead a "luxurious lifestyle that does not match the salary of a Peskov civil servant and is likely to build on the illegally acquired wealth of Peskov's ties to Putin."
Gennady Timchenko- Businessman and billionaire oligarch
The recognized minimum asset value is $ 70,500,000
Reason for involvement:
A longtime friend of Putin, who has been described as one of his confidants, Timchenko is also Russia's sixth richest oligarch. He is one of the largest crude oil traders, Gunvor. Tymochenko is a shareholder in Bank Rossiya, which is considered the personal bank of senior officials of the Russian Federation. The bank was sanctioned for helping destabilize Ukraine and consolidate Crimea in Russia.
Rumors have circulated that Timchenko is financially linked to Putin. According to the US Treasury Department, which sanctioned him for these connections in 2014, "Timchenko's activities in the energy sector have been directly linked to Putin. Putin has investments in Gunvor and may have access to Gunvor funds.
Igor Sechin- Russian politician with long service and CEO of Rosneft
The recognized minimum asset value is $ 120,000,000
Reason for involvement:
Widely seen as the second most powerful man in Russia, Sechin has been behind every step of his longtime friend, Vladimir Putin. When Putin became head of the Foreign Affairs Committee in the St. Petersburg mayor's office in 1991, Sechin was appointed chief of staff. The pair have worked closely together since then, culminating in Sechin's appointment as deputy prime minister in 2008.
Since 2012, Sechin has been the chief executive of Rosneft, Russia's state-owned energy giant.
Igor Shuvalov- Senior Russian official with long service
The minimum recognized asset value is $ 102,500,000
Reason for involvement:
After serving in various Russian government roles since the late 1990s, including as an aide to President Vladimir Putin, Shuvalov became known when he was appointed first deputy prime minister in 2008. He held that position for a decade before to leave the government to take over his current chairmanship of the state-owned development corporation, Vnesheconombank or VEB.RF.
Nikolai Tokarev – President of Transneft
The minimum recognized asset value is $ 4,840,000
Reason for involvement:
A former major general in the Russian secret service and a longtime aide to Vladimir Putin since the couple served as KGB agents together in Dresden, East Germany, in the 1980s.
In 2007, Tokarev took over the management of one of Russia's most important state-owned companies, Transneft, which transports 82 percent of the country's domestically produced oil through its pipelines. He and his family have also amassed a business and real estate empire that spans all of Russia and Europe.
Oleg Deripaska- Businessman and billionaire oligarch
The recognized minimum asset value is $ 5,708,521,772
Reason for involvement:
According to US diplomatic cables discovered in 2006, the aluminum tycoon and longtime ally of Russian President Vladimir Putin was almost permanent on the president's trips abroad and one of the few oligarchs with whom Putin reportedly met regularly. The US also believes he laundered money on behalf of the president.
Roman Abramovich- Businessman and billionaire oligarch
The minimum recognized asset value is $ 8,054,689,267
Reason for involvement:
A powerful player in Russia since the late 1990s, the oligarch is a former MP and was governor of the Chukotka region from 2000 to 2008.
As one of Russia's richest men, he made his fortune by buying Russian oil assets during the wave of privatization that followed the end of the Soviet Union. Before being sanctioned in March 2022, its net worth was reported to be $ 12.3 billion.
He is perhaps best known internationally as the owner of the Chelsea Football Club, which he announced he would sell in the wake of Russia's complete occupation of Ukraine. He has vehemently denied allegations that he is close to Russian President Vladimir Putin and his government.
Vladimir Solovyov- TV and radio speaker
The minimum recognized asset value is $ 1,180,000
Reason for involvement:
Influential expert and polemicist presenting mainstream shows on state television channels Russia-1 and Russia-24. Widely regarded as a Kremlin propagandist, he is known for his extremely hostile stance towards Ukraine and the praise of President Vladimir Putin and the Russian government.
In 2014, he was awarded a medal for his favorable coverage of the annexation of Crimea by Russia. After the full-scale invasion of Ukraine eight years later, Solovyov told his YouTube viewers that it was a historic day in which "the just denazification of Ukraine begins."
Yury Chaika- Presidential Envoy to the Federal District of the North Caucasus, Former Attorney General
The minimum recognized asset value is $ 400,000
Reason for involvement:
Putin's Minister of Justice until 2006 and then Russia's Attorney General until 2020. During his tenure as prosecutor, he oversaw a series of politically charged criminal investigations.
He is believed to be the man behind the infamous Trump Tower meeting, when a Russian lawyer promised to give Donald Trump, Jr., compromising information about Hillary Clinton, but instead pushed him to repeal the Magnitsky Act, which sanctions and freezes US assets. of human rights violators.
One of those sanctioned under the act is Chaika's son, whom the U.S. says used his father's position to put pressure on its competitors for state contracts and assets. The luxury foreign properties of the Chaika family were discovered by the Alexei Navalny Anti-Corruption Foundation.
konica.al