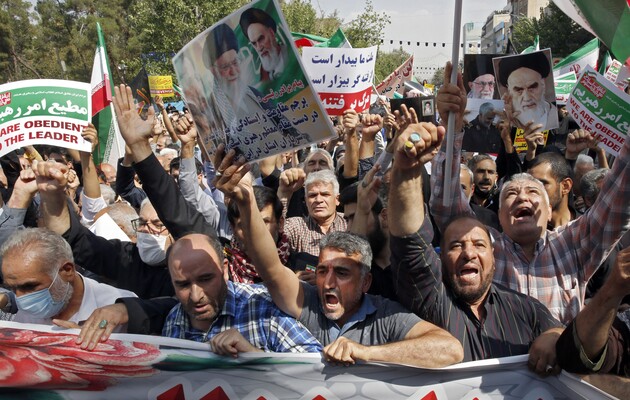 Germany, France, Denmark, Spain, Italy and the Czech Republic have submitted proposals for new European Union sanctions against Iran for suppression of protests against violation of women's rightstransmits Reuters.
According to German publication Spiegel, the proposed sanctions target 16 people, organizations and institutions primarily responsible for cracking down on nationwide protests that erupted after "morality police" beat 22-year-old Mahsa Amini to death for wearing "wrong" clothes. hijab. The initiators want EU foreign ministers to decide on sanctions at their October 17 meeting.
German Foreign Minister Annalena Burbock said on Monday that Tehran's crackdown on the protests was "an expression of pure fear of education and the power of freedom" and promised sanctions.
Anti-government protests that began during Amini's September 17 funeral in the Kurdish city of Sakez have escalated into the biggest show of opposition to Iranian authorities in recent years, with many calling for an end to more than four decades of Islamic clergy rule.
Iran Human Rights, based in Norway, claimed more than 100 people were killed. Iranian authorities have not released a death toll, but say many members of the security forces were killed by "rebels and thugs backed by foreign enemies."
Last week, state television reported 41 deaths, including members of the security forces.
See also: Iran writes about progress in negotiations to unfreeze funds blocked due to sanctions
Currently in power in Iran is an ultra-conservative political class group that is directly affiliated with the Islamic Revolutionary Guard Corps (IRGC), or Pasdaran, which is essentially a state within a state. The IRGC can be compared to the troops of the Stalinist NKVD, reinforced with aviation, tanks and naval forces. Will these protests be the forerunner of dramatic changes in the country, will they lead to the fall of the fundamentalist regime? Read about it in the article. Igor Semivolos "Protests in Iran: what is happening and will the regime fall».
zn.ua