Voting for the by-election will be held on December 5 in the Rampur assembly seat, which is considered to be the bastion of SP leader Azam Khan. BJP and Samajwadi Party are face to face in this election. From this seat, BJP has placed a bet on Akash Saxena, who has always been considered a staunch opponent of Azam Khan. The SP has nominated Asim Raza, a close aide of Azam Khan, as its candidate from this seat. Difficulties seem to be arising for the SP here because many Muslim leaders here are announcing their support to the BJP.
Former minister and Congress leader Nawab Kazim Ali Khan alias Naved Miyan has announced his support to BJP candidate Akash Saxena. Not only this, Congress leader and former President of Sugarcane Development Council Babar Ali Khan and former District President of Rashtriya Lok Dal Mohammad Usman have also announced to support the BJP candidate in this by-election.
Another Congress leader and former minister Kazim Ali Khan says that Azam Khan is responsible for the by-elections being held on this seat today, so there is no point in supporting his candidate again.
Along with this, Congress leader Babar Ali Khan while talking to ABP News said that Kazim Ali Khan who is from the family of Nawab of Rampur and has been MLA and Minister many times from here and Congress and SP are always face to face in Rampur. Azam Khan has not done anything for the people of Rampur, that is why we have announced our support to BJP in this by-election.
News Reels
Babar Ali Khan said that even before this, Kazim Ali Khan had supported BJP in the by-elections held in MP and now in this election we have announced to support BJP's Akash Saxena.
On the other hand, there is resentment among the Congress leaders due to not fielding any Congress candidate from Rampur in the by-election, regarding which Congress leader Babar Ali Khan said that even though the Congress is not contesting from this seat, but we want Azam Khan as well. We will not allow this seat to win, so we have announced to support BJP, and only BJP's candidate Akash Saxena will win from this seat.
However, the Congress party has not come forward openly regarding the announcement of its leaders to support the BJP on this seat. No statement was issued by the Congress regarding this. In a way, the Congress has abandoned the support given to this BJP by its Congress leaders. But in the local politics of Rampur, this confrontation is being seen between the Congress leader and Azam Khan.
BJP welcomed the support of Congress
On the other hand, regarding this support of Congress, former District President of Rampur from BJP, Mohanlal Saini while talking to ABP News said that ever since the BJP government came to Uttar Pradesh, BJP has won the hearts of voters from every section, we all Along with everyone's development, we are running with the campaign.
Along with this, BJP leader of Rampur Faizal Raza Khan said that BJP has worked continuously for the Muslim community and this community has understood who is their real well wisher. He has been used only on the basis of vote bank. That's why we welcome the announcement of support to BJP by Congress Muslim leaders.
Faizal said that not only the Muslim community but every community is supporting the BJP. Proof of this was also seen in the by-elections held a few months back for Azamgarh and Rampur Lok Sabha seats, when the BJP won both the seats with a huge majority. Here also BJP will win with full support.
On the other hand, on Monday, the SP got another blow before this by-election, when Fasahat Khan Sanu, considered close to Azam Khan, joined BJP along with hundreds of his supporters. Regarding which BJP's state president Bhupendra Singh Chaudhary said that now BJP's lotus is going to bloom on all the seats in the by-elections.
Azam Khan's media in-charge Fasahat Khan Sanu has announced to join the BJP after being impressed by the beneficial schemes of Prime Minister Narendra Modi and Chief Minister Yogi Adityanath. He says that he did not get respect in SP, so he has joined BJP.
In Rampur, the bastion of Azam Khan, along with the Muslim leaders of the Congress, the SP leaders are also seen supporting the BJP, after which this by-election has become very interesting. At the same time, this support of BJP has also increased the difficulties of SP.
Because this seat has been occupied by SP for years and Azam Khan has been winning from this seat every time. This seat has a large number of Muslim voters and has been calling Azam Khan himself the leader of Muslims. Here the number of Muslim voters is close to 2 lakhs and second number is dominated by Vaishya and Lodhi community.
Number of voters in Rampur assembly seat
Talking about the equation of voters in Rampur, the total number of voters is 3,87,385, in which the number of Muslim voters is 52 percent, in which there are about 2 lakh voters. After which there are 45 percent Hindu voters whose number is close to 1 lakh 65 thousand and about 3 percent are voters of Sikh community whose number is close to 10 thousand. Apart from this, there are 40 thousand Vaishya Samaj, 35 thousand Lodh, 20 thousand Dalit, 5 thousand Kayastha, 10 thousand Yadav and 4 thousand Brahmin voters among Hindu voters.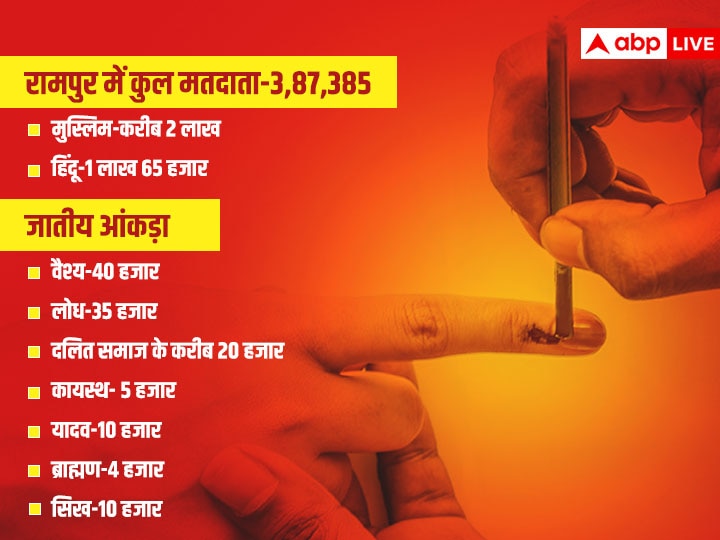 Azam Khan has been occupying this seat for decades
Azam Khan became MLA from this seat for the first time in the year 1993 from SP. However, even before this, since 1980, Azam Khan was winning from other parties from this seat. But in the year 1993, he contested on the ticket of SP and defeated his opponent Afroz Ali Khan (JD) and regained the Rampur fort.
But in the next assembly elections in 1996, Afroz Ali Khan defeated SP's Azam Khan on a Congress ticket. But again in the 2002 assembly elections, Azam Khan won the Rampur seat. And after that, till the year 2022, this assembly seat was occupied by Azam Khan, but after the recent cancellation of his membership, by-elections are being held on this seat in December 2022.
Membership gone after conviction in hate speech case
During the year 2019, the matter of hate speech given by Azam Khan in an election meeting came to the fore. He was accused of giving objectionable and provocative speeches. In this case, the local court also sentenced Azam Khan to 3 years in jail. After which his assembly membership was also cancelled. At the same time, BJP leader Akash Saxena had a big role in this whole matter because Akash Saxena had complained about the hate speech case.
Saxena was defeated by Azam in March 2022 assembly
After which voting for the by-election is to be held on this seat on December 5 and its results will come on December 8. For which the SP has nominated Asim Raza, a close aide of Azam Khan. Regarding which it is said that even though Asim Raza SP has nominated candidates, but only Azam Khan is contesting the election. Asim Raza and Azam Khan are the same.
On the other hand, BJP has fielded Akash Saxena from this seat, who was also BJP's candidate in the 2022 assembly elections held in the month of March, but during that time Azam Khan defeated BJP's Akash Saxena by 55,141 votes. BJP has placed bets on the same candidate.
www.abplive.com