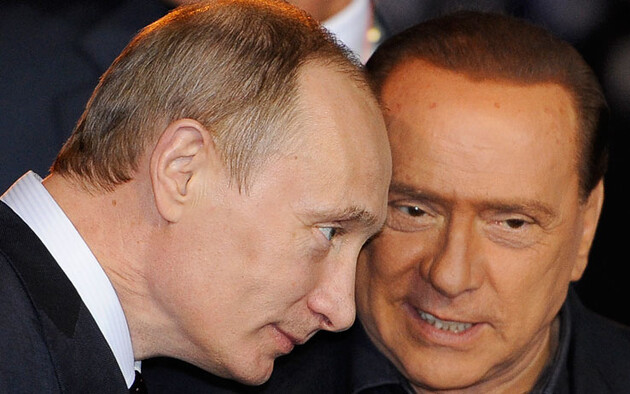 Russian President Vladimir Putin was "pushed" to invade Ukraine, and he wanted to put "decent people" in charge of Kyiv. Former Prime Minister of Italy Silvio Berlusconidrawing sharp criticism on the eve of the elections in Italy with this statement, writes Reuters.
"The Russians, his party, the ministers pushed Putin to this special operation"Berlusconi said on Italian public television RAI Thursday evening, using the official Russian definition of war.
According to Berlusconi, who once called Putin his little brother, Russia's initial plan was to conquer Kyiv in a week, replace Ukraine's democratically elected President Volodymyr Zelensky with a "government of decent people" and "leave in a week."
He expressed sincere bewilderment due to the fact that Russian troops were trying to occupy the entire territory of Ukraine, because they were supposed to concentrate only around Kyiv.
As Berlusconi explained, Moscow's decision to invade was made after the call of pro-Russian separatists in eastern Ukraine, who allegedly told Putin:Please protect us, because if you don't protect us, we don't know where we can go.".
In the end, after a violent reaction to his statements and condemnation of opponents, Berlusconi released a statement in which he said that his views were too simplistic.
"Aggression against Ukraine is unjustified and unacceptable, the position of the Forza Italia party is clear. We will always be with the EU and NATO", – he said.
Berlusconi's party belongs to the right camp and could win parliamentary elections on Sunday.
Enrico Letta, leader of the centre-left Democratic Party, called Berlusconi's comments on the war "scandalous".
"If the result on Sunday evening is favorable for the right, Putin will be the happiest person"Letta told RAI radio.
Centrist leader Carlo Calenda, whose party is also running in the elections, said on Radio24 that Berlusconi spoke "like a Putin general."
Asked about Berlusconi's comments, adviser to the President of Ukraine Mikhail Podolyak said that, in his opinion, the former Italian prime minister likes to "take the side of the winners, and this is definitely not Russia and not Putin."
"I believe that the Italian people, and in particular Mr. Berlusconi, are quite pragmatic and understand that, based on the current domestic political situation in Russia and based on the situation at the front, it would be a mistake to support Russia in the medium term"Podolyak said in a Reuters comment.
Two sociologists interviewed by the news agency rejected the suggestion that Berlusconi's statements were due to electoral calculations.
"Such opinions are shared by very few voters, people are not too interested in foreign policy"– said Renato Mannheimerhead of the sociological agency Eumetra.
"It seems to me that he expressed what he believes in, but did not want to say out loud"explained Antonio Notohead of Noto Sondaggi.
At times outgoing premiership Mario Draghi Italy has been a strong supporter of Western sanctions against Russia.
Georgia Maloney from the far-right Brothers of Italy party, considered the next prime minister, has vowed to remain in that position, but her allies Berlusconi and Matteo Salvini appear to be more divisive.
In April, Putin's friend Berlusconi condemned the atrocities in Bucha and the Russian invasion of Ukraine in general.
For more information about what Ukraine should know on the eve of the elections in Italy, read the article by Natalia Kudryk "Putin's friends rush to power in Italy: what Ukraine should know".
zn.ua