Test the wastewater and understand if even in Italy, like a New York, London And Tel Aviv, the poliomyelitis virus circulates. Therefore, monitor and vaccinate those who are not. Giovanni Di Perri, director of the infectious diseases department of the Amedeo di Savoia hospital in Turin, underlines how the disease that has reappeared in the West with a very serious case not far from the US metropolis (which has declared a state of emergency) is "terrible" and how "it would be disastrous" if the virus circulated again. Polio has been eradicated in most of the world thanks to the massive vaccination campaign, but it is a disease that has conditioned the existence of humanity for millennia with great epidemics that mainly affected the children and led to permanent forms of paralysis. "It's a scary disease," says the scientist.
The polio vaccine is still strongly recommended by US health authorities, and according to the most recent data, 93 percent of two-year-olds have at least three doses of the vaccine. The news dates back to June that the virus had returned to peep out in Europe and precisely in the United Kingdom which was declared free from polio in 2003 and the last case of wild form of the virus dates back to 1984. In Italy, according to the data related to 2018 in some regions the 95% vaccination rate threshold, which is the threshold recommended by the WHO, had been exceeded. In 2017, the Lorenzin law imposed 10 mandatory vaccinations, including the one for polio.
Professor what is happening?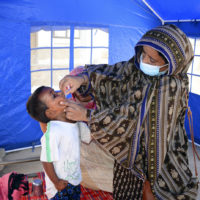 There are two situations to diversify: the wild virus is present only in Afghanistan and Pakistan. The references to Western countries are, and has been demonstrated from a molecular point of view, related to the vaccine itself. The one given in developing countries is with the inactivated virus, the one I did as a child: the Sabin. It is given by mouth, multiplies in the intestine, develops a defense, but is harmless. Sometimes, but it rarely happens, a reversal occurs, that is, you become virulent again. The virus is eliminated in the faeces. It rarely happens, but it happens that you come into contact with the reverse virus. The case of New York, that of Israel and others recorded in the past have to do with globalization. That is, from subjects coming from countries where this oral vaccine is used.
Is that vaccine no longer used in the West?
My children and other children are vaccinated with Salk being injected, which is a little less immunogenic but does not present the danger of reverse mutation with the virus becoming 'bad'. Once the risk of polio was lowered in Italy, Salk was introduced. There is another consideration to be made.
Say
The case of New York is very important because the severe case with flaccid paralysis, clinically neurological polio, is reported. The serious case is registered every 200 infected. So for each serious case there are another 199 infected who have not developed any problems. With many infectious diseases, and Covid itself, 90% of those infected do not even notice: maybe they have a little diarrhea, but in just under 1% there is paralysis that is permanent. So in evaluating a serious case we must think that there are at least 200 infected in total and this means that the virus is circulating. So these news must be amplified immediately.
And in fact, the State of New York has declared a state of emergency
There are poorly vaccinated areas, that's right. If polio circulates it is an emergency.
And what should we do in Italy? There are no reports with us
First of all, we must be vigilant. Also in New York and Tel Aviv they checked for the presence of the virus in wastewater. This gives us a very brief, but overall informative assessment of how much virus there is. There are very sensitive systems for water analysis. And I fear that there could also be positive results in Italy.
In Europe, traces of poliovirus have been found in London
It is an important indicator that invites us to raise our guard. Polio is no joke, it is a terrible disease. My dad who did the same job as me worked at the Santa Maria della Scala hospital in Siena (which is now a museum) and I remember when I went to visit him and I saw people inside the lungs of steel. So we absolutely have to strengthen the levees in this world has had a general vaccination crisis. It would be an unspeakable disaster if polio started to run. I am thinking, for example, of the children of the no vax.
The tips are wastewater tests and vaccination for those who don't have it
Yes, also because this, unlike that for Covid, is valid for life. It is necessary to check the vaccination rate and possibly strengthen it immediately and reinforce all the limits of the obligation because this cannot be an individual decision. Polio is really scary, it's a specter of medical history. It does not matter if no one has seen the consequences or does not perceive the risk. You have to protect yourself and protect yourself. Since we are almost 8 billion and we move a lot, we must also think that when foreign citizens are welcomed this is one of the screenings to do. We cannot afford a single case of paralysis, we have the means to protect, monitor and intervene.
In Italy in 2018 we had some regions where the 95% threshold recommended by the WHO had been exceeded
Yes, after the Lorenzin law. But while we're checking coverage, inviting non-vaccinated people can spend valuable time. You have to be rigorous. It's a low risk, but it's such a serious disease that it's worth protecting yourself.
The appeal is very heartfelt
I had a professional youth dedicated to tropical diseases, I worked at the London School and I have been to Africa many times. Polio is truly scary. When they vaccinated me in Italy in 1964 there were at least 3500 cases every year. It was a bugbear. We are close to eradicating it, if we work well we can do it in 10 years. We absolutely cannot derogate and the vaccine protects all life.
www.ilfattoquotidiano.it