Dressed in a gala and sharing with the best tennis players in the world, this is what Roger Federer looks like hours before competing in his last professional event to make his retirement official. Through his social networks, he shared a series of photographs where he immortalizes the moment with Nadal, Djokovic and Murray.
The doubles pairs training session on the indoor black court where the Laver Cup will be played on Thursday brought together an impressive cast of tennis luminaries.
A grand total of 66 Grand Slam titles in a collective dubbed the Big Four: Roger Federer and Rafael Nadal on one side of the net; Novak Djokovic and Andy Murray in the other.
This team tournament marks the end of Federer's long and illustrious career. The Swiss star's last match will be on Friday night when he will play alongside his eternal rival Nadal, for the European team, against the doubles duo of the Rest of the World team, made up of the Americans Frances Tiafoe and Jack Sock.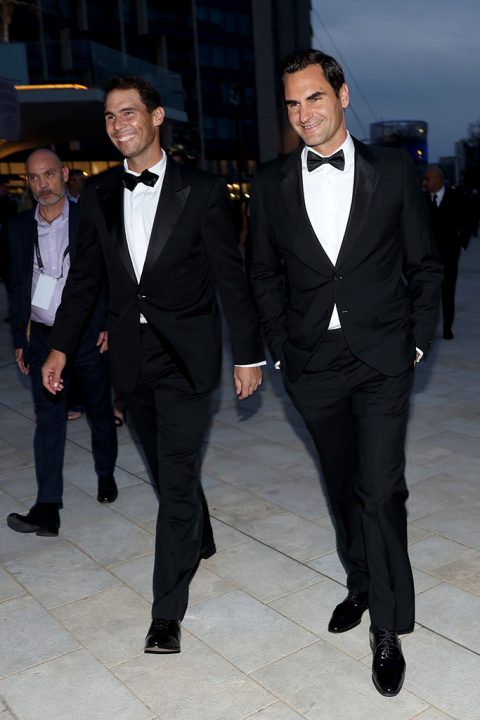 "I'm not sure if I can handle everything, but I'll try," said Federer, 41, anticipating an emotional farewell after a career of 20 Slams championships, a total of 103 titles and hundreds of weeks as number 1 of the Slams. world over a quarter of a century as a professional tennis player.
"Being sitting here I feel privileged," Federer said Thursday at a news conference in which he shared a table with Nadal, 36, to his left, and Djokovic and Murray, both 35, a couple of chairs to his right. .
Federer hangs up his racket as an active player after a series of operations on his right knee. He has been out of business since he lost to Hubert Hurkacz in the Wimbledon quarterfinals in July 2021.
In February this year, when it first emerged that Federer was going to London this week, the Swiss said Nadal sent him a text message suggesting he play a doubles match again. They formed a duo that scored a victory in the first Laver Cup in 2017.
Federer has 20 Grand Slam titles. Spain's Nadal now holds the record for most men's tennis crowns, with 22.
"I saw him play on television before he debuted on tour. I saw him on television being successful and then we were able to have an incredible rivalry together. On the other hand, there is something that we are very proud of and that is that it has been a friendly rivalry," Nadal said on Thursday. "Tomorrow will be something special. Hard. It will be difficult to manage everything, especially for Roger, without a doubt. For me too. He is saying goodbye to one of the most important players, if not the most important in my tennis career".
They met 40 times in singles duels (Nadal won 26), including 14 in the big events (Nadal won 10). Nadal emerged victorious in a memorable Wimbledon final in 2018, by far the greatest match in history. Federer won the last duel between the two, in the 2019 semi-finals at the All England Club.
"Being part of this historic moment will be something incredible, unforgettable," Nada remarked.
Tiafoe, 24, coming off defeating Nadal to reach his first major semifinal at the US Open earlier this month, joked: "I'm excited to face two players who show a lot of promise."
"It will be iconic to be a part of this. They are both absolute legends. And of course it's Roger's last dance," Tiafoe added.
The programming of the first of the three days of the Laver Cup was as follows:
In the individual competition, the Argentine Diego Schwartzman will face the Greek Stefanos Tsitsipas, the finalist of Roland Garros in 2021. The Norwegian Casper Ruud, with two Grand Slam runner-ups, will face Sock during the day session. In the evening, the duel between Murray and the Australian Alex de Minaur will precede the match between Federer and Nadal.
Everyone is clear that Federer's bye is the main event.
"The ideal was to see him and Rafa together again," said Murray.
Press here for support freedom of expression In Venezuela. Your donation will serve strengthen our digital platform from the writing of the Dean of the National Press, and so allow us to move on committed to truthful information, as our flag has been since 1904.
We count on you!

www.elimpulso.com