Without mincing words. That's how it was shown Pampito Perello hours ago, on the air of 'moment D', on the screen The thirteen. This has to do with the fact that they were debating what happened to the German National Team, and the panelist did not hesitate to share his position on the matter. Faced with this, he had a strong crossover with Fabian Domanwho thought differently from him.
Since the Soccer World Cup began, it is one of the main topics in current television programs. This is why, in 'Moment D', they decided to discuss what happened to the German National Team, who wanted to wear a ribbon with the LGBTIQ+ colors. Without hesitation, Fabián Doman was in favor of FIFA's decision, while part of his panelists decided to support the Germans.
«Do you think that the LGBT fight needs Germany to put on a bracelet? If Germany doesn't do it, is there no more fighting? Guys please! It is a demagogic act. Stop doing business with Qatar if it bothers you, don't go to play the World Cup. Do not use the world to make demagogy. Why didn't the German federation play all the games during the year with bracelets? To which Cinthia Fernández stated: «For me it is because of the place, they are repudiating the place. It's time to visualize something that doesn't have to exist anymore."
Rulo quickly commented that "it's like repudiating the country, that's what bothers." Without hesitation, Pampito stated: "It's not just that, because the English did not go with the LGBT flag, it was because of racial discrimination… I mean, they are super powerful messages, that the whole world is watching, and I think it's good that will give. Some flags can be raised, you cannot raise all the flags ». To which Fabián sentenced: «Ah, shall we choose which one? Do we do demagogy when it suits us?».
«I do not know if it is demagogy, it seems to me that it is a fight. We are talking about this precisely because they took this photo, so it seems to me that it is useful. Both what the English and the Germans did… don't you think that there is discrimination in the world, that there continues to be discrimination?", expressed Pampito Perello. Unable to hide his indignation, Doman sentenced: «Do you want to put me in the ridiculous false position that I am against the fight? I am not complaining about the content, but about the bracelet… They wanted to make this demagogic show".
Then he added: "Do you really think it's so important that the fight needs us to say this? Nothing is going to change in Qatar." To which Pampito affirmed that it does work, because "it becomes visible. Don't you think that instead of sitting around with their arms crossed, they are trying to do something? It seems to me that they contribute a grain of sand. If it's demagogy, it works just the same. The message goes beyond Qatar. That 'blacks' are not discriminated against and that more 'putos' are not killed, it is not a political question, it is a question of people's rights».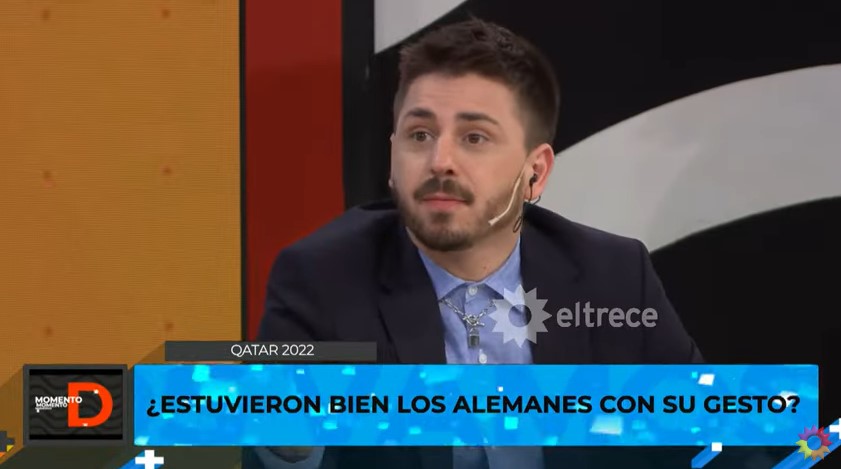 elintransigente.com