After the controversy generated by the meeting with kiosk vendors and figurine manufacturers of the Qatar 2022 World Cup, the National government it was rectified with a new announcement. through the Secretary of Trade in charge of Matias Tombolinithe Executive power reached an agreement with textile sector to keep prices at plus of 60 marks of clothing. The "voluntary" agreement will be valid, in principle, until December 1.
The understanding was reached this Thursday afternoon at a meeting held at the Palacio de Hacienda and headed by the Minister of Economy, Serge Massa, and Tombolini. The reference values ​​taken are those that the garments registered on September 5 last. Meanwhile, as of December 1 and for a period of 180 days, prices will be adjusted in relation to the variation of the official exchange rate.
The clothing brands included in the agreement
The measure includes the prices of more than 60 brands that will be available throughout the national territory in shopping malls, supermarkets and the firms' own premises. As officially reported, the brands 47 Street, Addnice, Adidas, Akiabara, Amphora, Awada, Ay not dead, Azzaro, Baby Cottons, Bensimon, Billabong, Bimba, Bolivia, Bowen and Carmela Achaval signed the agreement.
They continue Caro Cuore, Cheeky, Clara Ibarguren, As you want and Christopher Columbus, Cuesta Blanca, DC Shoes, Desiderata, Black Label, Furzai, Grimoldi, Grisino, Boer, Jazmín Chebar, Juanita Jo, Kosiuko, Herencia, La Martina, Lacoste, Las Pepas, Lázaro, Levis, Little Akiabara, Lola, Maria Cher, Markova, Midway, Mimo, Mishka, Naum, Nike, Old Bridge, Original Penguin, Paula Cahen D'Anvers and Perramus.
Completing the list of firms are Portsaid, Prune, Quiksilver, Rapsodia, Roxy, González Tailoring, Stance, System, Tascani, Taverniti, Uma, Vitamina, XL Extra Large, Yagmour and Zara. The understanding provides mechanisms by the Ministry of Commerce to audit and verify compliance with it.
The sensations of the national government
In this regard, Massa argued that "these are measures that respond to stabilizing the situation in order to project the export competitiveness of companies, order in prices and macroeconomic stability." Tombolini, meanwhile, highlighted: "This agreement gives us predictability to take care of the pockets of Argentines and that is why we celebrate the effort by the industry."
Finally, the official pointed out that they will work "together to improve supply and so that the sector can export more." In his turn, the president of the Argentine Industrial Chamber of Clothing, Claudio Drescher, said: "We are responsible for ensuring that this agreement is fulfilled and we do it with conviction because, like any Argentine businessman, we want the country to move forward" .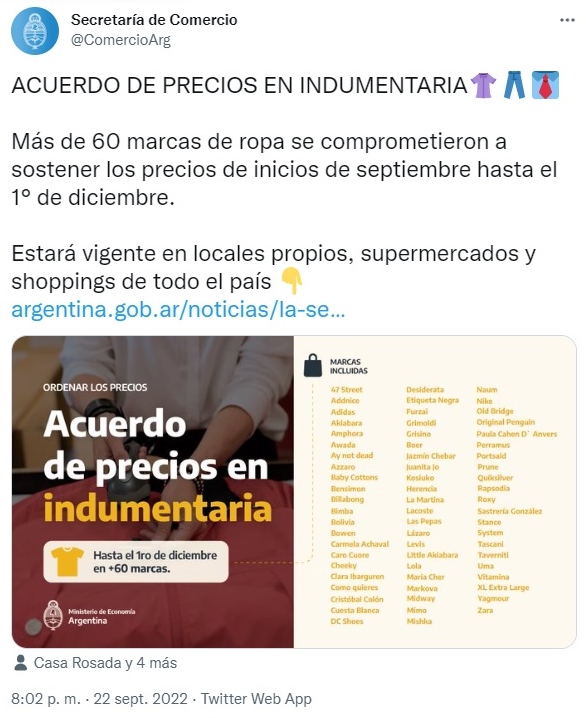 elintransigente.com