Mauro Icardi and Wanda Nara faced a deep crisis in recent months, something that had wide repercussions. In fact, the model did an interview with an Italian medium in which she spoke without a filter about her breakup with the athlete, but these issues seem to have been left behind. after the announcement that celebrities uploaded to their social networks.
Just a few hours ago, Icardi posted an image embracing the mother of his daughters and with a few special words he made his reconciliation with Wanda official. «It was not the woman of my life, it was my life turned into a woman». wrote the famous garnering half a million "likes" in the course of a short time.
Subsequently, the famous allowed himself to make a singular analogy: «Disney stories also have second seasons. Love you @wanda_nara«. "The reconciliation operation" began a few weeks ago when Wanda Nara returned to Istanbul, the city where Mauro plays soccer, and they met again.
Just a few days after the return of the media, they prepared a trip to the Maldives in order to solve their previous problems and they seem to have succeeded. On the other hand, it is pertinent to remember that Ana Rosenfeld, the legal representative of Zaira Nara's sister, had said that a separation document, not a divorce document, had been signed.
«We have signed the separation, Mauro did not want to and it was very difficult because I still love him very much. Things were not going, the atmosphere was very heavy at home and at one point I told him 'let's stop' and then I went to Argentina. This gossip infuriated Mauro even though I explained that it was nonsense. That hurt me more than the betrayal, I was too jealous of this rapper," the model had assured a couple of weeks ago.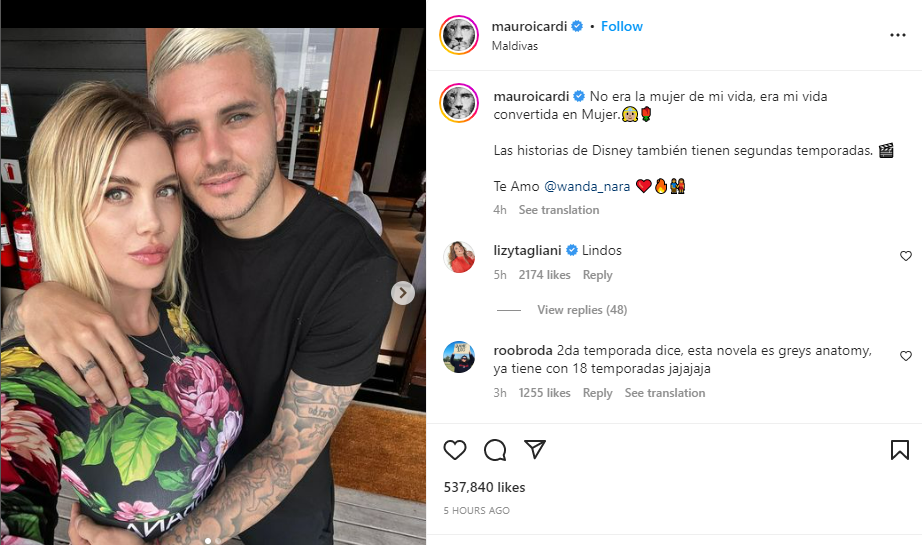 elintransigente.com