Mauricio Macri came out today at the crossroads of the resolution of the National Parks Administration (APN), which declared as "sacred mapuche site» to the Lanin volcano, an extent to which he later had to backtrack. «The beautiful Lanín Volcano belongs to all Argentines, without discussion«, the president emphasized next to a photograph of the beautiful landscape located in the Pacific Ring of Fire.
After criticism from the opposition, the APN reported, through a press release, that "in the next few days it will convene the body's directory in order to form a participatory dialogue table with the province of Neuquen and the original communities, and in this way national parks will nullify the current resolution, and will work together on a new one that contemplates the federal spirit».
Other opposition statements
The designation added the questioning of several referents of Together for Change, such as the Auditor General of the Nation, Miguel Angel Pichetto, who expressed his rejection through the same channel as the former president. «Strong repudiation of the decision of National Parks to declare the Lanín Volcano as a sacred Mapuche site. Once again, sovereignty is affected in a paradisiacal and touristic place in our country. An imbecility of this government. Soon all of Patagonia will be Mapuche », he pointed out.
Liberal deputy Ricardo López Murphy expressed himself along the same lines, attributing the decision to "an absurd aberration typical of the delusions of Kirchnerism." "I repudiate the National Parks resolution that declares the Lanín Volcano as Mapuche territory. An absurd aberration typical of the delusions of Kirchnerism. The national territory belongs to all Argentines and it DEFENDS, it does not surrender. Enough of Populism », he affirmed from his Twitter account.
The cronyism of Mauricio Macri with Joe Lewis
The reactions to his post were not long in coming, reminding him, mainly, of his friendship with the British tycoon Joe Lewis. Since 2009, organizations and officials such as Magdalena Odarda, current director of the National Institute of Indigenous Affairs, who denounced the impediments for citizens to access the water mirror.
Former President Macri took care to defend him in public, saying that he did not understand the "systematic search to attack" Joe Lewis. He argued that thanks to him, the residents of Lago Escondido "have better access than they had before." In July 2016, Macri modified the Land Law and eliminated the limit of a thousand hectares that foreigners had.
The Tree of Foot Civil Association denounced, earlier this year, the privatization of the lake. "Lewis is a symbol because we are talking about access to water, over time, the problem will be no, since people will not be able to reach the coast, but directly to the water," he warned. The same members of the entity also denounced that no one "personally knows" the 86-year-old tycoon.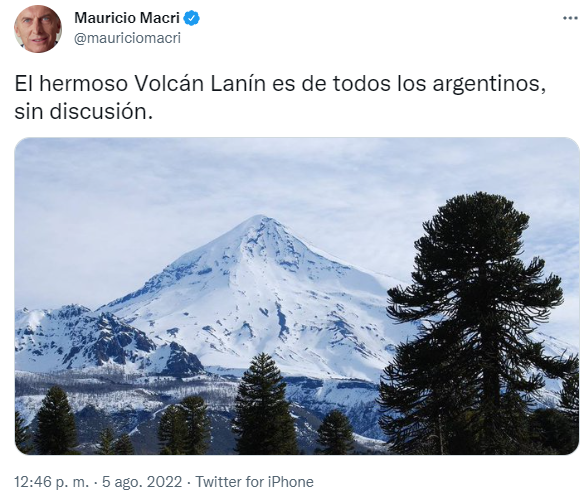 elintransigente.com