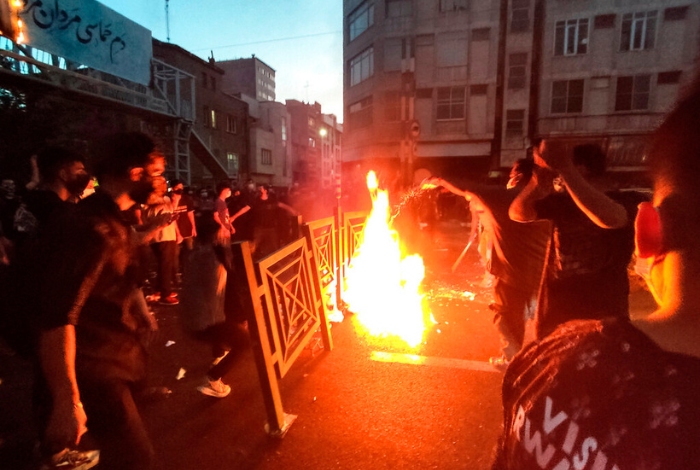 Protesters in Iran continued to clash violently with security forces on Friday following the death of a young woman in police custody. Iranian state television hinted that the death toll could reach 26, without elaborating.
Although the magnitude of the protests in a dozen cities and towns could not be determined, the movement represents the greatest internal unrest since 2019, when civil rights defenders say that hundreds of people died in the violent repression.
The authorities have restricted access to the internet and blocked the services of the WhatsApp and Instagram applications.
A state TV newscaster said Thursday night that 26 protesters and policemen had been killed in protests that erupted last Saturday after the funeral of 22-year-old Mahsa Amini, without revealing how authorities calculated that figure.
At least 11 people have died, according to an Associated Press count, based on state and semi-official media reports. Recently, the deputy governor of Qazvin, Abolhasan Kabiri, said that a citizen and a paramilitary officer were killed in the protests.
The crisis began with the protests over the death of the young Amini, a resident of a northwestern Kurdish city, arrested by the moral police for allegedly violating the strict dress code.
His death drew condemnation from Western countries and the United Nations and stirred the nation. The videos show Amini at the time of her arrest, covered in a long black dress and the mandatory Islamic veil.
Police said she died of a heart attack and was not mistreated, but her family disputes that story, as do crowds in the streets. Authorities allege that other unnamed countries and opposition groups are fomenting the unrest.
Videos on social media show protesters in Tehran setting a police patrol on fire and engaging officers in hand-to-hand combat. In other parts of the capital, shots were fired and one person was running screaming "They are shooting at people! My God, they are killing people!"
Press here for support freedom of expression In Venezuela. Your donation will serve strengthen our digital platform from the writing of the Dean of the National Press, and so allow us to move on committed to truthful information, as our flag has been since 1904.
We count on you!
www.elimpulso.com