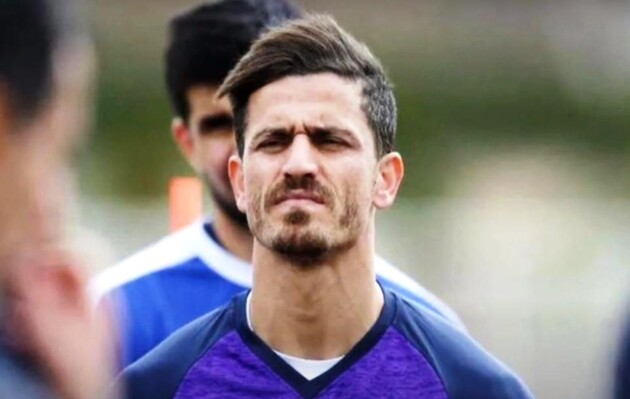 Iranian security forces on Thursday arrested one of the country's most famous soccer players, accusing him of spreading anti-Islamic propaganda and seeking to undermine the national team at the World Cup.
Read also: Legendary soccer player sentenced to death in Iran
Woriya Ghafuri, a former member of the national football team and former captain of Tehran's Esteghlal club, has been outspoken in defense of Iranian Kurds, urging the government on social media to stop the killing of the Kurdish people. Earlier, he was detained for criticizing former Iranian Foreign Minister Javad Zarif.
See also: Iran attacks with missiles and drones the location of the rebels in Iraqi Kurdistan
Iran is due to play Wales on Friday. The Iranian team has already been involved in controversy after didn't sing the national anthem ahead of the England game, and Gafuri's arrest would likely be seen as a warning to the players not to repeat their protests.
See also: Iranian basketball players were photographed without hijabs in solidarity with the protesters against the ruling clerics
He was detained after training with his club Fulad Khuzestan on charges of "undermining the reputation of the national team and spreading propaganda against the state," Fars reported.
Other agencies said he was charged with "insulting and intent to destroy the national football team, as well as speaking out against the regime."
In recent days, ministers have accused Gafuri of being a Kurdish separatist, but he replied that he was ready to give his life for Iran. Earlier this year, the supreme leader, Ayatollah Ali Khamenei, said: "Some people who enjoy the peace and security of the country, enjoying their work and favorite sports, bite the hand that feeds them," which many believed to refer to Ghafuri.
The 35-year-old was part of the Iranian squad for the 2018 World Cup, but, surprisingly, was not included in the final squad for this year's World Cup in Qatar.
Gafuri hails from the Kurdish city of Sanandaj in western Iran. It was this city that experienced the most brutal repression during the protests caused by the death in the police station Mahsa Amini, a 22-year-old Kurdish woman arrested by the vice police for "wrong wearing the hijab".
In 2019, Ghafuri handed out blue t-shirts in honor of Sahar Khodayari, a woman who set herself on fire after she was sentenced to prison for trying to watch an Esteghlal match at the Azadi Stadium.
After another incident of violence against football fans in 2021, Gafuri wrote on Instagram: "As a footballer, I really became humiliated playing in an era when our mothers and sisters are forbidden from entering stadiums."
Many fans speculated that his career with Esteghlal, the league-winning team, was cut short in June as punishment for his remarks. Others have argued that at 30, Gafuri is too old for the Iranian major leagues.
He recently tweeted: "Stop killing the Kurdish people!!! Kurds are Iran itself… Killing Kurds is tantamount to killing Iran. If you are indifferent to killing people, you are not Iranian or even human… Don't kill people!! !"
zn.ua