Rouzbeh Cheshmi scored in the eighth minute of second-half stoppage time and Iran used superior numbers to beat Wales 2-0 in the World Cup on Friday.
Cheshmi's shot from outside the box was out of reach of Welsh goalkeeper Danny Ward, who had entered the game when starter Wayne Hennessey was sent off in the 86th minute.
Ramin Rezaeian added the second goal moments later. Those led by the Portuguese coach Carlos Queiroz effusively celebrated the result, while some of the Welshmen threw themselves to the ground without believing what had happened.
Hennessey was sent off for reckless play in a clash with Mehdi Taremi outside the box.
Iran refloated their options to advance to the round of 16. He had just lost 6-2 to England in the first match of Group B.
RESPECT 🤝 pic.twitter.com/ODRDWxdAW8

— FIFA World Cup 🏆 (@fifaworldcup_es) November 25, 2022
"This is just the beginning, we need to complete the job," Queiroz said. "It's been a wonderful day," he mentioned.
"What the players have done has been brilliant. They deserve all the attention and respect," he added.
Gareth Bale became Wales's longest-serving player with his 110th cap, but the team seemed lethargic at first after drawing 1-1 with the United States in their Qatar debut.
"We are devastated," Bale said. "There is no other way to say it. It is very difficult to assimilate. We have to continue and raise our heads, "he said with resignation.
Wales, in their first World Cup since 1958, have one game left against England on Tuesday.
"We know it will be very difficult against England and we will fight until the end," said Bale, who surpassed Chris Gunter (109) with the most caps played for the team.
In the run-up to the match, pro-government Iranian fans clashed with opponents of the Islamic Republic's ruling theocracy outside the Ahmad bin Ali Stadium, reflecting the division the nation is experiencing.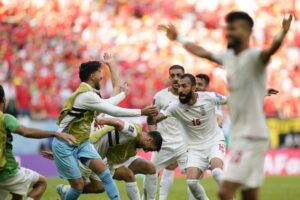 Iran goalkeeper Ali Beiranvand was ruled out of the match against Wales after suffering a concussion on debut. Hossein Hosseini took his place.
Iran, which qualified for the last two World Cups, has never made it past the group stage.
Since his first day in Qatar, the Iranian team has had to deal with the troubled situation in his country. The footballers, who did not sing the national anthem at its premiere as an apparent gesture of solidarity with the protests, hugged and sang on Friday.
It was the first time Wales and Iran had met in a World Cup. Welsh won the only previous match between the two, winning 1-0 in a friendly played in 1978.
SOCCER, SOCCER, SOCCER pic.twitter.com/lbQZP4Uo2f

— FIFA World Cup 🏆 (@fifaworldcup_es) November 25, 2022
Have the information instantly on your cell phone. Join the Diario Primicia WhatsApp group through the following link: https://chat.whatsapp.com/D0WqzaSBn24Frrb6ByjhR4
We are also on Telegram as @DiarioPrimicia, join here:https://t.me/diarioprimicia
primicia.com.ve