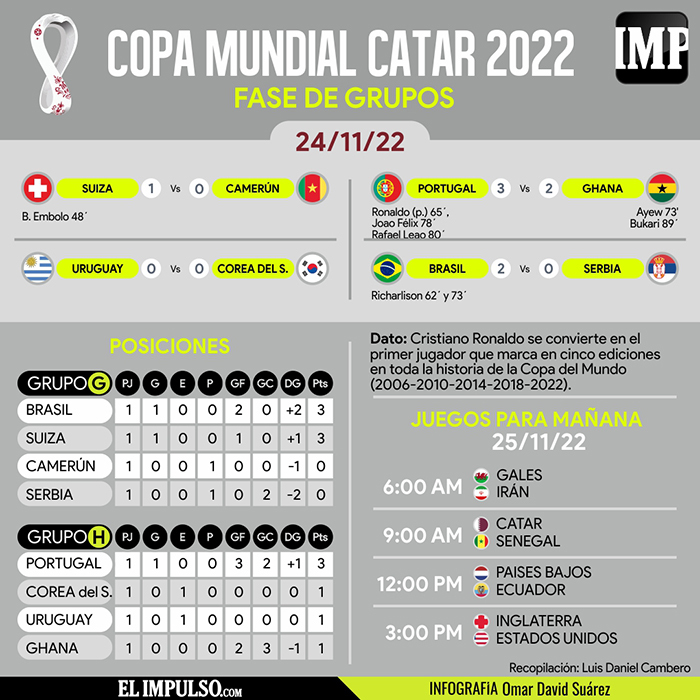 The World Cup day continues Qatar 2022 and this Thursday, November 24, 4 matches were held in the group stage.
In the first of them, Breel Embolo scored this Thursday the goal that gave Swiss the 1-0 win over Cameroon in the world and he kept his promise not to celebrate any goal against the country that saw him born.
The Swiss striker from Yaoundé finished off a low pass from Xherdan Shaqiri with his right foot after 48 minutes, after appearing alone a few meters from the Cameroonian goal.
Subsequently, Uruguay could not find the path of the goal and had to settle for a 0-0 draw against South Korea at its premiere in the World Cup.
Diego Godin at the end of the first half and Federico Valverde in the agony of the match they had the clearest chances for La Celeste, but their shots crashed off the posts.
Later, the Portugal team captained by Cristiano Ronaldo, defeated a combative Ghanaian team 3 goals to 2.
ronaldo made World Cup history. The portuguese striker became the only footballer to score goals in five World Cups by converting a penalty after 65 minutes of the party
By the end of the day, Richarlison scored both goals in Brazil's 2-0 win over Serbia. A memorable acrobatic kick promises to become one of the best goals of Qatar 2022.
Press here for support freedom of expression In Venezuela. Your donation will be used for strengthen our digital platform from the writing of the Dean of the National Press, and thus allow us to move on committed to truthful information, as has been our flag since 1904.
We count on you!
www.elimpulso.com