Higuain retires in tears, goodbye to football at the end of the season. "I was privileged"
The Argentine made the announcement during a press conference saying he will end his career with the Inter Miami shirt

Monday 3 October 2022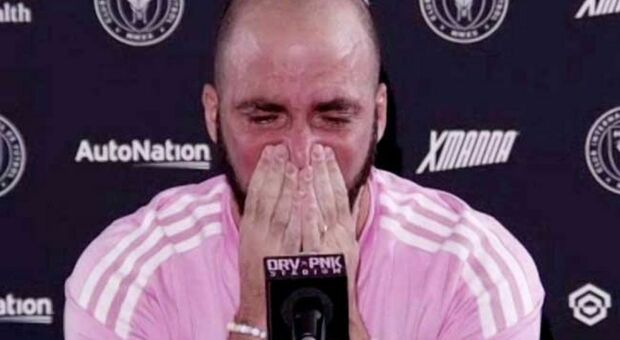 "I tried, analyzed, to finally reach this decision: it is the day to say goodbye to football, a profession that has given me so much, I am privileged to have seen it in good and bad times ». With these words Gonzalo Higuain announces his retirement from football. The Argentine, in tears, during a press conference, said that he will end his career with the Inter Miami shirt.
Higuain, mother Nancy died aged 64: she was ill with cancer
Higuain, goodbye to football
In Italy he played with Napoli, Juventus and Milan. he scoring 36 goals in 35 games with the Azzurri shirt in 2015/2016. Higuain will turn 35 on 10 December and the next two matches he will play – the last of the regular season of American Major League Soccer – will be the last of his professional career. «The day has come to say goodbye to football. I feel like I'm quitting – said Higuain – in my best moment, thanks to Inter Miami who gave me back enthusiasm ».
His career will always remain linked to Serie A: Pipita played for Napoli from 2013 to 2016, then the sensational move to Juve. In 2018-19, after starting the season at Milan (Juve had dumped him after buying Ronaldo) he was sold to Chelsea. In 2019/20 the last year (and the last Scudetto) at Juve, before flying to the USA
Last updated: October 4th, 08:00



© REPRODUCTION RESERVED
www.ilgazzettino.it