The pass market of Argentine soccer is open after the conquest of Racing in the Champions Trophy. Therefore, the clubs have some peace of mind when negotiating to attract players. A contract that seems difficult to unlock is the one that involves the figure of Matías Kranevitter and his departure from Monterrey from Mexico. Why is your return to River?
The midfielder is eager to return after a long career in different clubs abroad. However, this mission will be very difficult to carry out successfully. Due to the fact that the Mexican team laid the foundations for the 2023 season and the Argentine is part of the coaching staff's plans. Which left only one alternative when negotiating.
«Victor Vucetichmanager of Rayados de Monterrey, he put pressure and warned that he included Kranevitter among the 10 foreigners for 2023. This corroborates that it will be necessary to put money to get it out and the player must resign money", said Maximiliano Grillo on his Twitter account. In Transfermarkt, the token is valued at 3 million euros.
It is necessary to remember that the midfielder wants to return to begin to outline the last years of his career. And also, because the intention of River is that it becomes the replacement of Enzo Perez. Since he will be 37 years old soon, he needs a partner who can take over from him. Therefore, if the operation is carried out, the managers will have to leave money along the way.
Is someone leaving River?
At the moment, the only confirmed casualty is that of Thomas Pochettino that the loan expired. Yes ok River had the possibility of renewing it, it was decided not to do so due to the high cost that had to be paid for the entire pass. In addition to the fact that the steering wheel had never shown a level that invites an investment of more than 2 million dollars.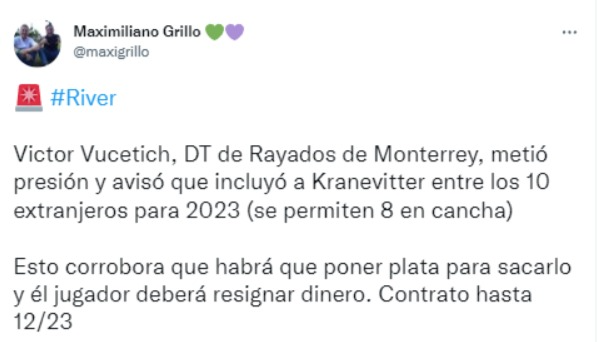 elintransigente.com