At the press conference prior to the match between Ecuador Y Netherlands by date 2 of Group A of Qatar 2022, Gustavo Alfaro He spoke, among various topics, of the Argentine National Team. The coach from Rafaela analyzed the situation facing the team led by his compatriot lionel scaloni after losing in the debut against Saudi Arabia.
"We continue to respect all the teams. No game is won before playing it. If you don't work the game, you don't win it. This is so. For me, Argentina had to lose against Arabia. But if he turns it around, he has all the conditions to be champion"said the coach of La Tri, who has just beaten the host Qatar 2-0 in the opening duel of the tournament.
«It happened to Spain with Switzerland in South Africa 2010. One thing does not invalidate the other. They are surprise results. When you have the ability like Argentina, you can turn that defeat into victory. If this turns around, she's a candidate."Added the coach with a past in San Lorenzo, Rosario Central, Arsenal, Tigre, Gimnasia de La Plata, Huracán and Boca.
Gustavo Alfaro about the match between Ecuador and the Netherlands
«The game is budgeted to lose, that puts us in a position of having more to lose than to win. I am very satisfied with what Ecuador has shown in this time. But we have a team in front of us that, as his coach said, is going to be world champion, "said the Argentine, releasing the pressure from the other side of the field.
«It is a well-understood selection, with individual abilities to solve what the team cannot. You have to fight the game, when you play against a great, you must be on all fronts: soccer, physical, mental. A ball defines", held Gustavo about the team led by the renowned coach louis van gaal.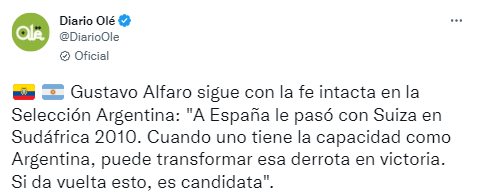 elintransigente.com