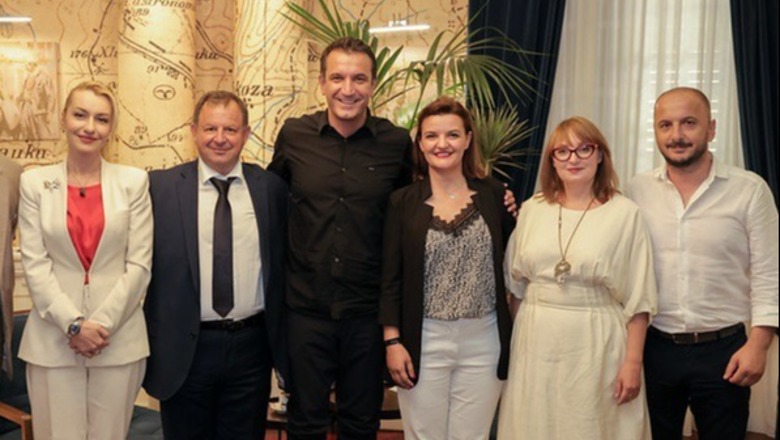 Greece will continue to be a strong supporter of Albania's European integration. The Mayor of Tirana, Erion Veliaj hosted the friendship group with Albania in the Parliament of Greece, headed by the Speaker, Vassilios Giogiakas. The delegation included the vice president, Maria Kefala, and the secretary of the group, Konstantinos Barkas.
During the conversation, Veliaj and the Greek MPs appreciated the excellent relations between the two countries. "We have an extremely large and important Albanian community in Greece. They went there first as refugees, today they have done business, created families, produced success stories. The same with the Greek minority living in Albania. They are respected, do business, have economic activity. We are like a family. When you look at the war in Ukraine and Russia, you realize that it matters a lot which neighbors you have. We are blessed to have the Athens of Democracy and the Rome of modern statehood as our neighbors. I believe that we should cultivate this good friendship", emphasized Veliaj.
He said that despite the development of recent years, Tirana can learn from the Greek experience in the field of tourism and agro-tourism. "We talked about how we can twin universities, how we can twin high schools and how to make sure we learn from each other's stories. In recent years, we have had a galloping development from the transformation of Tirana, but we still have a lot to learn, how the Greek islands are managed, how they have turned into an extraordinary source of finance in tourism, agro-tourism, and agro-processing, especially in the border areas between Albania and Greece, where we have some of the success stories", declared the head of the Municipality.
The chairman of the friendship group with Albania in the Greek Parliament, Vassilios Giogiakas, assured Albania's support in the European journey. "Greece is a pillar of stability in the region and we want to emphasize how much we support the initiative of Albania's integration into the European Union. Precisely, in the framework of joint cooperation between the two peoples and between the two governments, let us raise even higher the ideals that bind us and the essential relations that create this wonderful relationship between the two countries. I want to emphasize mainly the development of tourism, agriculture, agro-tourism, where Greece can offer a very good technical idea to have the best possible products", said Vassilios Giogiakas.
President Vassilios Giogiakas and members of the delegation of the friendship group appreciated that Albania is a neighbor and friend of Greece.
shqiptarja.com