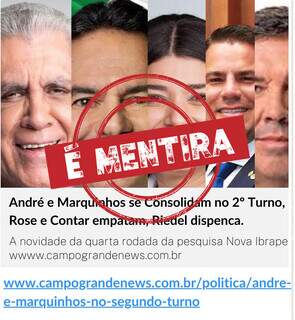 Fake electoral poll has been running in Whatsapp groups attributing the survey to the Campo Grande News. With grammatical and spelling errors, the text circulates with the headline: "André and Marquinhos consolidate in the 2nd round, Rose and Contar tie, Riedel dismisses (sic)".
THE fake news it inverts the reality of the electoral race, pointed out by the latest polls, even presenting graphs that are totally different from those officially indicated.
O Campo Grande News called the legal department, which will file a representation with the TRE (Regional Electoral Court) with a request for an injunction to suspend the broadcast. It will also report to the Federal Police, to identify the perpetrators, even requesting arrest in flagrante delicto.
"In the case of fake news about electoral research, which is governed by federal legislation, it is up to the Federal Police to identify and punish those responsible for the material. They will also be fined and face criminal proceedings", explains attorney Félix Jayme Nunes from Wedge.
The correct numbers, released this Thursday by Novo Ibrape/Campo Grande News, put André Puccinelli with 23.7%, Eduardo Riedel with 17.2%; followed by Rose Modesto, with 14.4% of voting intentions. Marquinhos Trad appears with 13.5%, while Capitão Contar (PRTB) has 12.6%.
Next, the survey shows Giselle Marques, from PT, with 4.4%. The other competitors of Psol and PCO do not reach single digits. Adonis Marcos has 0.3% and Magno Souza, 0.1%.
The survey was registered with the TSE (Superior Electoral Court) under the numbers MS-05960/2022 and BR-01112/2022.
www.campograndenews.com.br