MONTEVIDEO (Uypress) – This Sunday, 5,302 covid-19 tests were carried out, of which 557 were positive. Five deaths were confirmed, four in Montevideo and one in Canelones.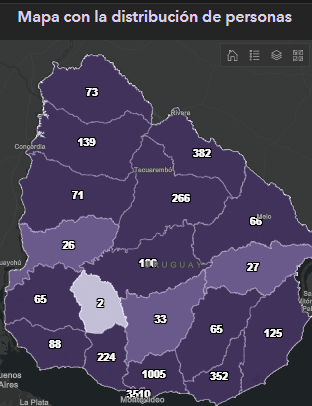 According to the information provided by the Ministry of Public Health (MSP), this Sunday, January 31, 5,302 tests were carried out and 557 new cases of covid-19 were detected, of which 330 are from Montevideo, 60 from Canelones, 33 from Rivera, 32 from Maldonado, 20 from Tacuarembó, 11 from Paysandú, 10 from Salto, nine from San José, eight from Colonia, seven from Artigas, seven from Soriano, five from Cerro Largo, five from Florida, five from Rocha, four from Durazno, four from Lavalleja, four from Río Negro and three from Treinta y Tres.
Since the health emergency was declared on March 13, 848,026 tests have been processed and 41,738 positive cases of coronavirus have been registered throughout the national territory. Of that total, 34,683 have already recovered.
This Sunday five deaths from coronavirus were confirmed in our country. These are four patients from Montevideo aged 93, 85, 82 and 69 years old and one patient from Canelones aged 96 years.
So far there are 436 deaths from covid-19 in Uruguay.
There are currently 6,619 active cases, that is, people who are experiencing the disease and 90 are in intensive care.
Of the total confirmed positive cases, 2,340 correspond to health personnel; 1,993 have already recovered, 343 are suffering from the disease and four have died.
To date, there are active cases in the 19 departments: 3,510 in Montevideo, 1,005 in Canelones, 382 in Rivera, 352 in Maldonado, among others.
UyPress – Uruguayan News Agency
www.uypress.net