MONTEVIDEO (Uypress)- Within the framework of the dispute of a new Uruguayan soccer classic for the 4th Date of the Opening Tournament between Peñarol and Nacional this Sunday at 5:00 p.m., the National Police will have a security operation to maintain order public.
As reported by the Ministry of the Interior, it will begin at 11:30 at the former Carrasco International Airport. Starting at 12:30, the entrance of Nacional fans to the airport will be enabled. Meanwhile, the security operation around the Stadium will begin at 1:00 p.m. and the doors are scheduled to open at 2:00 p.m.
At the former Carrasco International Airport, the fans will go through the facial recognition cameras and police and ticket controls will be carried out to go to a neutral zone until around 1:45 p.m., where they will board the buses that will take them to the Champion of the Century Stadium around 3:00 p.m. Once the fans arrive at the sports stage, they will be able to enter directly to the assigned tribune.
Peñarol fans will enter directly to the allocated stands after checking tickets and passing through the facial recognition cameras.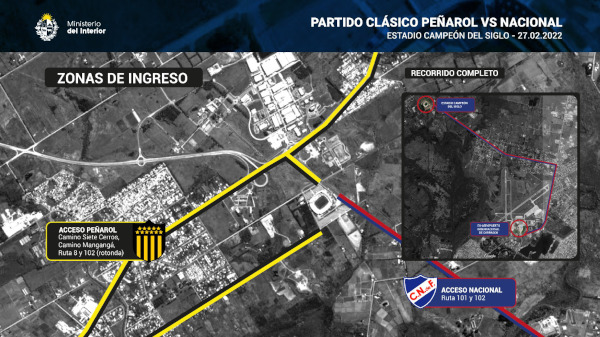 Fans can enter with:
– Portable radios with small batteries (AA or AAA).
– Umbrella without tip, according to weather conditions.
– Bass drums, drums or snare drums with transparent slices up to one hour before the start of the match; After that period, the entry of said elements will not be allowed until the decongestion of the doors and the meeting has begun.
– Flags of up to 2 meters x 1 meter with a flexible plastic tube with a diameter of no more than 1 centimeter, hollow and without covered ends. The flags will also not be able to adhere to each other to form a larger one.
– Thermo and mate.
– Wallets, shoulder bags, backpacks, small bags and fanny packs.
The entry of:
– Plastic bottles up to 600 ml. Club Atlético Peñarol will provide hydration containers to the public.
– Glass bottles.
– Fireworks and flares.
– Alcoholic drinks.
– Items that may be offensive.
– Objects that can be used as weapons, cause damage, injury or be used as projectiles.
– Racist or xenophobic material.
– Objects that increase the risk of fire or are dangerous to health.
– Animals, except those for the assistance of disabled people.
– Confetti.
After the match, the National bias will be withdrawn first. Once all the partials arrive at the airport, the doors will be opened for the fans of Club Atlético Peñarol.
The National Police recommends complying with the stipulated schedules, which were previously coordinated with the sports institutions and the Uruguayan Football Association (AUF), so that the sports festival can take place without inconvenience and as planned.
UyPress – Uruguayan News Agency
www.uypress.net