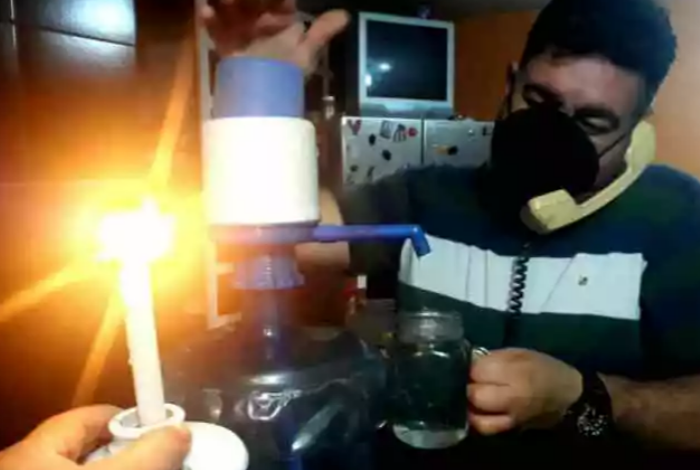 Until four power failures per day, sometimes five, occurring in various sectors of the city, including, in some places, up to ten and twelve hours a day "in blackout", they are becoming a new way of life for citizens, which causes multiple inconveniences in domestic and work activities.
Humberto Contreras
Only in these last three days of the week that has just ended, some twelve electrical failures occurred, between three and four daily, which together accumulated more than 16 hours no service, Counted from Friday afternoon to Sunday noon, in areas of the Cárdenas municipality. And we only talk about the city, because we have no record of the rest of the state.
This number of failures, however, does not include the number of "mini blackouts", of just a few minutes, nor the "ugly" voltage drops that activate surge protectors on refrigerators, washing machines, and computer equipmentfor just two or three minutes, enough, hopefully, to turn off the devices, because, in many cases, they are irreversibly damaged.
in the networks
The situation affects us in every way, both in domestic tranquility, since it prevents normal activities in the house, whether it is the preparation of food, the enjoyment of TV or the internet, or staying in total darkness, if it is night, not only in the home, but in the entire environment of the area where one resides.
In addition, in the labor aspect, in these times of teleworking, when many carry out tasks depending precisely on the electric power, with the internet service, all of which considerably alters the emotional balance.
Since there is no one to complain to and, furthermore, no one to respond, social networks have become the cloth of tears. In any chat group, comments about failures are the main topic, adorned with complaints and protests in all colors.
As an example, we reproduce several comments taken from the journalists' chat this Saturdayquoting only the comment:
"Last night we were without power from 9:25 pm to 2 am. Today they cut off the supply from 3 pm to 7 pm."
"To the blackout of 4 hours in the afternoon, it's time to add about 15 more minutes, a while ago."
"In Barrio Sucre they removed it from 2… It arrived at 8 pm and until now. 9:05, they have placed it and removed it 3 times".
"Amarga Administration: Today they removed the light from 7 to 10:30 am; then from 3:00 to 4:30 pm, and tonight. at 7:00 sharp. they removed it until 9:00 pm What a barbarity! There is no schedule that is worth ".
"For three nights in a row he leaves at 7:00 and arrives at 12:00 at night. From there on. blackouts between 5 and 6 successive. Frankly. nothing justifies it."
"In Cordero they removed it from 9 am and until now (8:15 pm) it was when it arrived."
And who explains?
Normally, there is no one who clearly explains what causes such an irregularity, which severely affects the community. These days we have had statements from three different officials, but the three versions do not coincide with each other, which causes more confusion.
First, the manager Corpoelec TachiraGustavo Rosario, the most direct official responsible for informing, since he cannot be censored or prevented by his superiors from doing so, according to the Constitution, who was summoned to the Legislative Council to give explanations. From the reasons that he gave to the deputies, in the Uribante dam, it has not rained, and there is a deficit of 60 centimeters of water".
For his part, the state governor, who also said that in about three weeks "could" improve the electricity service "because the Barrancas hydroelectric plant in Barinas will be activated", He reiterated that there has been a very significant drop in the Uribante – Caparo reservoir. We are 60 centimeters below the grid."
Likewise, the sectoral vice president of Public Works and Services and Minister of Electric Energy, G/J Néstor Reverol of the Maduro regime. who this Friday spoke of the "multiform war, which our public services in the country face"this Saturday, confirmed, referring to the faults in Táchira, that an Emergency Load Management Plan is applied in the entity motivated by maintenance work at the Termozulia plant.
Read more details on The Nation Newspaper
www.elimpulso.com