MADRID (Uypress) – After comparing the levels of interpersonal violence of numerous species of mammals, a study concludes that violence in humans is a characteristic of primates and has deep evolutionary roots.
Humans, are we violent by nature or are we peaceful beings that civilization corrupts?
With this question in mind, a study published in the journal Nature compared the levels of lethal interpersonal violence in 1,024 species of mammals and related them to their phylogenetic and historical context. Conclusion: violence in humans is a specific characteristic of primates and has deep evolutionary roots.
The psychological, sociological, and evolutionary roots of interpersonal violence in humans are still debated, despite attracting the attention of scholars for more than two millennia. It's a job published this week in the magazine Nature, the researchers thought that the violent component of human nature could be deduced from our evolutionary history in common with mammals. This was the starting point of a study that has compiled data on more than 4 million deaths and quantified the level of lethal violence in 1024 species of mammals, from 137 taxonomic families and in around 600 human populations, ranging from about 50,000 years ago to the present.
"Are humans violent by nature, as Hobbes said, or peaceful beings corrupted by civilization, as Rousseau suggested? This question has captivated thinkers and scientists since time immemorial, but to this day we still do not have an answer definitive, although both were probably partly right", explains José María Gómez, a researcher at the University of Granada (UGR) and the main author of the study, according to the magazine Research and Science.
Analyzing data from humans and other mammals and using comparative phylogenetic tools, scientists have determined that lethal violence as a consequence of our evolutionary past is around 2%. According to Adela González Megías, researcher at the UGR and co-author of the article, her study shows that lethal violence in humans has an undoubted evolutionary component that precedes our own origin as a species.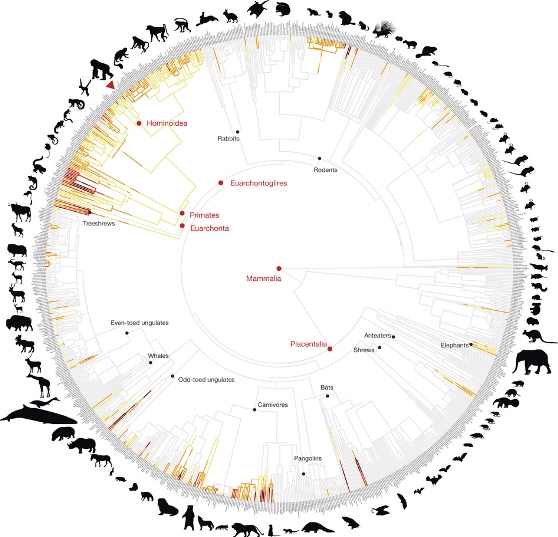 (Tree showing the degree of lethal aggression between members of the same species in 1,024 mammalian species. The level of aggression increases with intensity of color, from yellow to dark red. Light gray indicates no lethal aggression.)
However, the degree of lethal violence has changed throughout human history and may be associated with changes in the socio-political organization of human populations. After reviewing lethal violence in 600 human societies, from the Paleolithic to the present, they concluded that cultural influences on this phenomenon in humans cannot be ignored. In prehistoric societies, this type of violence is consistent with that estimated from our long evolutionary history together with other mammals, but it increases a lot in chieftain societies and drops to very low levels in societies, explains Miguel Verdú, co-author of the article.
But, although interpersonal violence is a characteristic feature of human beings, culture and social organization can mitigate it and favor the peaceful resolution of our conflicts.
Although many times it seems that this is very difficult.
Source: Research and Science
www.uypress.net