It takes off and lands vertically. The electric Air One is aimed at individuals and requires minimal training to fly it thanks to its AI-enhanced flight algorithm. Already on pre-order!
We don't see them flying much in our skies yet, but it won't be long. Electric VTOL (vertical take-off and landing) planes, which represent a market estimated by some at $30 billion by 2030, are heralded as future means of short-haul transport. This is why Israel, a small country, is a pioneer in this area. Thus, the company Air, based in Pardes Hanna, unveiled its Air One. With only two seats, it is intended for individuals wishing to move easily and quickly. As the crow flies. To support its demonstration, Air does not hesitate to show that a journey of 100 kilometers aboard its machine requires a flight time of 32 minutes. Compare this with a 115 kilometer car journey taking an hour and a quarter.
With its folding wings, it can be stored in its garage
In addition, and this is not the least of its advantages, the Air One can be piloted with minimal training. The equivalent of the Sport Pilot Licence, relatively inexpensive and requiring only fifteen hours of training. Because it is the intelligent on-board system, "Fly by Intent", which takes care of the entire flight program. "Air seeks to make a real difference by making the freedom to fly truly accessible to people," said Rani Plaut, CEO of Air. The first trials will take place this month, for marketing in 2024, but pre-orders are already open! Hybrid machine because equipped with wheels (it can also roll, but what interest?), it is really aimed at the average consumer since, with its folding wings, you can store it in your garage. It remains to have a garden to take off from home.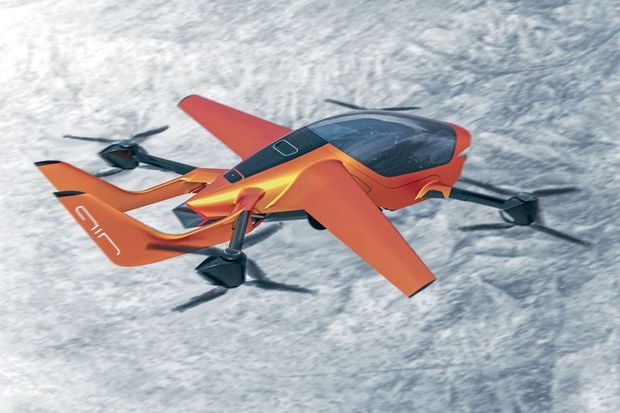 "With our software, the pilot is never in danger"
Rani Plaut, CEO of Air.
Paris Match. How does the driver assistance software that you have developed work?
Rani Plaut. Our "Fly by Intent" system is an artificial intelligence algorithm that carries out a continuous and automated control of the vehicle. The person piloting the machine uses a simple control joystick. Then the on-board flight control system transforms the pilot's intention into an effective command by taking into account internal and external parameters to execute this maneuver in complete safety. The software we created includes all the data – perception, navigation, avoidance and more – so it never lets the pilot get into a dangerous situation.
Also read.We tested the first production electric plane
When will you enter industrial production and how many copies do you expect to sell per year?
We hope to sell a few hundred a year and the rate of pre-orders seems to indicate that this will be the case. We expect to deliver the first models in 2024 and enter mass production in 2025.
Any reproduction prohibited
www.parismatch.com